Migrating for love: the personal, economic and cultural challenges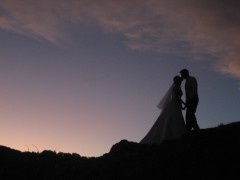 In our globalised world, it is becoming easier to cross borders but many nations, including Australia, maintain exclusive policies that prevent migrants from participating fully in society. Like my husband, many migrant workers face racism when seeking employment – a reflection of broader nationalistic sentiments in response to migration. Furthermore, as our story shows, not all migration is for "economic" reasons. In order to enhance the valuable contribution that migrants make to our community and economy, therefore, national policies should support migration and multiculturalism.
Once upon a time, while floating upon the sacred lake of the Incas in Peru, Lake Titicaca, I met and fell in love with my husband. It was like something out of the movies: at first glance, I was completely captivated, and as I got to know him better over the next 2 days of the tour, I was convinced he was the man I wanted to spend the rest of my life with. After finishing university, I had originally travelled to Peru to volunteer with a street children's organisation, with the intention of getting to know firsthand "how the other half lives." Instead, I came back with a "souvenir" as we often joke. But if my husband, who used to work as a dentist in Peru, had known that 8 years later he still wouldn't be working in his profession, I doubt whether he would have accepted my original proposal of moving with me to Australia so many years ago. In fact, it breaks my heart to see how the "system" can completely crush the hopes and dreams of so many migrants in this country, who simply desire to work in what they love. And my husband isn't the only case: I know of so many other migrants who've had to leave behind not only loved ones but careers as well in the hope of achieving a "better life" – among them a Russian maths professor who resigned himself to working as a taxi driver, and a dentist from Argentina who delivers mail.
At first, it took quite a lot of convincing others that my fiancé wasn't marrying me for economic reasons – indeed, when I was in Peru I was quite taken aback to discover they actually had a term for it: brichero (for guys) or brichera (for girls): a girl or a guy who goes after a Western girl/guy with the hope of moving to their country. In our case, as my husband can still attest to this day, I was the one definitely after him – tall, dark and handsome; creative, caring and.. romantic!, what more could a girl want? When he arrived in Australia after 6 months of waiting for the fiancé visa, my family and girlfriends finally admitted that everything I had said about him was true. And our wedding, on a beach, surrounded by the soft lapping of waves, was everything I had always dreamed of, and in the years that followed we were also blessed with two beautiful children.
It breaks my heart, however, to know that 7 years since our wedding, my husband still hasn't achieved his dream of working as a dentist in this country. It took a couple of years for him to reach academic fluency in English, and he has since completed a Certificate IV in Adult Tertiary Preparation, which gave him a rank (Overall Position) to qualify him for entry to tertiary studies. Last year, we moved interstate where he completed a Bridging Course in Oral Health, so he is now qualified to work as a Dental Hygienist – not quite a dentist, but the next best thing. Unfortunately, given the competitiveness of the job market, he still hasn't found work. As we have learned the hard way, however, it's not just about the economy: put quite simply, there is still a lot of racism out there. Of his classmates who completed the Advanced Diploma of Oral Health last year, all of the "white" Australians have found jobs, while only 1 of the 12 overseas dentists who completed the course have found work.
Nonetheless, I try to remain positive, and keep telling my husband I know he'll find a job soon – which he deserves, as I know he is wonderful in what he does. I also want to try and prove him wrong in that Australia is not as racist as he thinks, and that our celebration of multiculturalism is one of the things that makes me proud to call myself Australian. I realised this the other day, when we were celebrating our son's 5th birthday at the park. I looked around at our friends who had come to celebrate the occasion and realised most of them were first or second generation migrants, or "mixed marriages" like our own: Australians married to Asians, South Americans, and Europeans; and for a brief moment, I thought to myself, surely there is nothing more beautiful in this world than all these cultures coming together in harmony, and sharing love, laughter and tears? I just hope our society would be more embracing of those who are different, and that government policy would be more supportive of migration and break down some of the systemic barriers that make it so hard for migrants to achieve their dreams. I glance over to my boy, running about carefree with his friends; then look over to my husband and delve once again into those deep brown eyes; and rekindle the faith in my heart that tells me this story will have a happy ending.
Tags: australia, employment trends, GLOBALISATION, migration, multiculturalism, racism, skilled migration