Tropical Warmth Greets Migrants in Ghana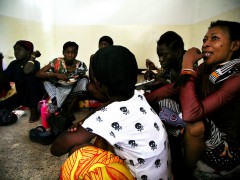 Migration brings new faces to our cities every day, and takes others away. Successful economies worldwide lure young job-seekers, while many social and economic factors keep (or drive) others home.
How are identities changing as a result of this mass migration? How are we as individuals altered by these new interactions? — Are our identities and the things that make us unique getting washed away? Or are we becoming cultural mash-ups, but still as unique as ever?
The famed friendliness of Ghanaians has typically made Ghana open to migration. Ghana has been the center of different kinds of migration and has largely benefited economically from it. The oft-mentioned migration has been historical and West Africa based, involving populations from Ghana's neighbours.
People from immediate neighbors Togo, Burkina Faso, Cote d' Ivoire and further afield countries like Mali, Niger and Nigeria have been influential in contributing to Ghanaian agriculture, mining and retail trading among others.
Our first president Kwame Nkrumah's vision of a united Africa meant that this historical migration was deepened by the political goal of unity. This goal meant that other Africans who were part of liberation movements across the continent found refuge in Accra during their own struggles. This is a tradition that has been honoured repeatedly throughout independent Ghana's history.
Among liberation-era personalities that lived in Ghana were Zimbabwean president Robert Mugabe and former Malawian president Kamuzu Banda. Cadres of the liberation movements of Angola, South Africa, Mozambique and Zimbabwe to name a few could always count on this country as one of its centers of solidarity during the anti-apartheid struggle.
The famous South African musician Hugh Masekela who was himself a cadre of the African National Congress has told the story of his travels on a Ghanaian passport while in exile, a story many of these cadres can relate to.
Notable black Pan-Africanists like George Padmore and W.E.B. Dubois spent various lengths of time in Ghana, their shared friendship with Nkrumah and passion for Africa and its people spurring them on to implement their ideas for the continent's advancement. George Padmore moved to Ghana in 1957 when the country gained independence.
They represent a diaspora that yearned to return to the continent. An African American professional class relocated to post-independent Ghana perhaps taking a page from notable communities like the Brazilian Tabom of James Town, Central Accra and the West Indians of the Akuapem Ridge who migrated to Ghana in the 19th century.
The 2011 post-election Ivorian crisis spurred increased Ivorian migration, noticeable primarily in the distinct Ivorian car number plates on the country's roads primarily in the capital and in Takoradi. Ghana also absorbed large numbers of Liberians in the 1990s when Liberia's civil war broke out.
These examples are not meant to suggest that Ghana has been simply the happy recipient of immigrant people.  Ghanaians have also often moved out to other countries in good times and bad times.
When once in the nation's history Nigerian traders were forced out of the country, it provoked a counter eviction of around one million Ghanaian labourers, technicians, teachers, nurses, business people etc back to Ghana. Overall though, Ghana's narrative when it comes to migration has been more welcoming than not.
Any current trends in migration therefore are taking place within a context of a people that has traditionally welcomed new migrants.
How are identities changing as a result of this mass migration?
All this has made for a diverse and complex migration experience over time. Increasingly, in much of the World, there is an amalgamation of various cultures and Ghana is no different. Often, the cultural mélange that springs forth shows up through business.
A plate of fried rice is as available in 'Ghanaian' restaurants as in Chinese. Fast food restaurants serving fried chicken and other food usually associated with Western culture are as prevalent as your local chop bar food. A Shawarma is as much requested in middle class Ghanaian society as in the immigrant Lebanese community.
Changes to culinary norms are probably some of the more obvious ways to see shifts in identity.
How are we as individuals altered by these new interactions?
It is difficult to say how much recent changes in Ghanaian culture are influenced by migration. Take the elaborate traditional ceremonies typically done for the important stages of life. Ceremonies for teenagers that celebrated puberty have become largely shunned. Are the changes in deeply rooted cultural practices like birth and marriage ceremonies the result of more migration or because of the growing influence of evangelical churches in citizens' lives?
Are more Christian-influenced birth ceremonies the result of an interaction with other migrants or because of religious practices most associated with the West? I would say the latter. Yet the increasing phenomenon of large white expensive weddings are partly the effect of migration accentuated by the consumption of popular culture from different media.
The changes in society might be attributable to an inflow of people as much as an inflow of ideas as images and conversations are shared throughout a now highly globalized World.
Ghana: Open for Business
As I point out earlier, Ghana has always been open for business mainly by absorbing labor from neighbouring regions. In the last 30 years however, successive government policies have made it a point to actively seek high capital foreign investment.
With this influx of capital, an already open economy has become even more so with an increasing presence of 'investors' countrywide. The country's mining and banking sectors have come to be dominated by foreign investment, sometimes to the detriment of local initiatives. Additionally, because some of these initiatives do not emphasize the retention of profits locally or the training of our human resources in new technologies, the interactions are not beneficial.
Yet, even more precious to a country's sustained growth and success than high capital is a quality human resource base. One of the narratives that has emerged in the last few years has been the return of Ghanaians who have lived abroad.
The story typically is that economic conditions in Europe and America coupled with increased opportunities back home means African professionals can seize those opportunities ultimately contributing to the growth of their countries. Here is one example of such a story. If indeed these narratives are true and a reverse migration of Ghana's high level human resource is occurring then it's welcome.
Perhaps a policy that takes into account the need for high capital investments in certain sectors while facilitating the ease of movements across borders will create enterprises and businesses which make for a richer migration experience. Additionally, a more Pan African approach that encourages leading African professionals in their fields to migrate within the framework of a knowledge transfer that creates new technologies and spur more industrial type activity will be more sustainable.
One thing is for certain, more often than not, the interactions caused by migration tend to alter our way of life in a slow gradual roast making it more of a cultural mash-up than radical shifts in our lives.
In this age, culture and our identities are as dynamic as ever.
Tags: Accra, Africa, African National Congress, George Padmore, ghana, Kwame Nkrumah, Robert Mugabe, South Africa