Nelly Ali: Fighting for Cairo's street children and mothers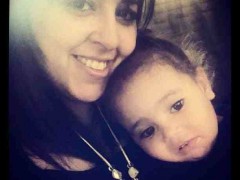 Nelly Ali sometimes carries a magic wand in her bag. She uses Twitter to fundraise for clothes for those kids (Cairo street children and mothers).
She's a strong woman tirelessly fighting for the rights of street children and young homeless mothers to physical, sexual, emotional and psychological safety.
An International Childhood Studies PhD candidate at Birkbeck, University of London in the department of Geography, Environment and Development, Ali is currently working on an ethnography of street girls and child street mothers in Cairo, Egypt.
Her research interests are the prevalence of violence in the day-to-day life of street children and their experience of resilience, vulnerability, gender identity and sexuality.
Nelly Ali has recently been volunteering at Hope Village, a shelter for young street mothers in Cairo, where she developed deep relationships with the girls. She has been writing and tweeting about their stories and fears, keeping a promise that she would put a human face on the "problem" of street children and mothers living on the city's streets, swiftly marginalized by society. Nelly Ali is a dreamer, and she now shares her dreams with the girls at Hope Village.
In an interview with Future Challenges, Ali speaks of the challenges she faces, and the hope that keeps her going in this battle for the rights of street children and young mothers.
FC: You are a strong advocate for street girls and young street mothers in Cairo. When was the moment you decided you would fight for this cause?
NA: I started by doing my PhD research. My fieldwork was with street kids in general and so I found an NGO that would let me work under their supervision – it's hard to just take to the streets as the kids are managed by a whole community of street adults that don't take kindly to researchers. It was during the fieldwork that I got to know the street girls and realized that very little academic or social work was being done with this marginalized group of young women and as I built my friendships with them, I realized that I was being read and listened to about other issues I was commentating on, on Egypt at the time and so I took this opportunity use social media and blogging as a channel to which they could be heard.
FC: As an anthropologist, how can you explain the ailing situation of street children in Egypt today?
NA: The children have developed their own language, terminology, defense mechanisms, dress codes, survival strategies and society seems happy with the "otherness" this creates. It was interesting too to learn how the government upon being offered 17,000,000 LE for the street kids "problem" they did not consult a single NGO that works with street kids and instead decided they would build a city where they would move all street children to. This highlighted how marginalized this group of kids are, how they are perceived as a threat to society and also highlights that their situation worsens by mainstreams perception and lack of understanding.
FC: Can you describe the plight of street children in Egypt, particularly girls and women?
NA: This is a really hard question to answer in just a few words, but I'm going to try. I think it would be useful to talk about the plight of street girls and young women in terms of the different stages of their life cycle, so to speak.
These girls come from families who have been violent to them in one way or another and have found no support at the time, before migrating to the street in an attempt of reconciliation and of course, where inappropriate, then a lack of appropriate alternative care.
Then they move to the streets; which are even harsher than their home circumstances at times where they are subjected to a whole new range of violence and abuse and deprivation. One extremely articulate street girl answered me, when I asked her why she wouldn't go home if the street was worse: "you can forgive the street because it's not supposed to care for you, but how can you forgive your mum and dad who are supposed to be nothing but love and care". This really threw a new light on the issue of rehabilitation and why it is, often, unsuccessful.
Then the violence and struggle at correctional centers and institutions where the monitoring of staff is catastrophic and lacking to say the least.
And then to the challenges they face when they fall pregnant, lack of antenatal care, humiliation at the hospitals they go to give birth in, lack of support with the paper work and the huge emotional and practical responsibility of having a child when they are children themselves.
FC: You are a volunteer and project manager at Hope Village, a day-shelter for young mothers in Cairo. What are the biggest challenges you face at the shelters?
NA: The biggest challenge is fighting the feeling that I just want to take them all home with me! But there are more challenges of course, treating them all fairly, listening without surprise – remember these kids have more experience in their small number of years than we have in a lifetime. One of the greatest challenges is standing around helpless as a parent of one of the children comes in to take his/her son/daughter and we know they will bring them back in a very bad state, but we have our hands tied by the laws which allow abusive parents to take their children away to beg with them for instance.
FC: Encountering the agony of homeless children day after day, you must often be overcome by a desire to stop. What keeps you going?
NA: I need to keep going because I realize on the days I don't tweet and blog about them, no one is. When I went to speak to the girls about my research, I told them I had no questions for them, all I would report on was what was important for them that the world knew, the stories they wanted others to hear and know. If I stop that, all they will have are the sensational stories and numbers and statistics that totally dehumanize them. Many other things keep me going, the way they hug and kiss me when I come in through the door, the same girls that flinch at the slightest gesture from a stranger.
FC: In one of your articles, you revealed the story of Taghreed, a girl who ran away from her abusive father and now lives alone with her baby on the street. You wrote she only dreams of issuing a national ID. How have your dreams as a person changed, in light of the unorthodox stories you encounter everyday?
NA: Yes, definitely. I'm glad you asked this question because it's been playing on my mind for a while. I was wondering recently where my "future plans/dreams" were and couldn't find any… I realized that after working with the girls I have started to dream "collectively" so to speak, every dream is for a group of people, for families, for nations, etc. I find this really interesting and I am still figuring out what it's about.
It isn't just my dreams that have changed, though. Working with the street girls has changed me as a person. I try and write in all my bios now "I go to university to teach and I go to the street kids to learn". They have taught me the most important lessons in friendship, love, maternal matters, struggle, resilience, resistance and they have also taught me the power of dreaming, that without holding on to dreams, you wouldn't have the way to carry on.
I feel like I am so privileged to live these girl's lives with them for many reasons. One of the things I've learnt is that once you start living for a cause, your personal problems aren't an issue anymore, you learn to let go and be far more reasonable, forgiving and willing to compromise – you are armed with the "bigger picture" through their stories.
FC: If there is one human right you are fighting for, what would it be?
NA: The right to sleep with both eyes closed: the right to physical, sexual, emotional and psychological safety.
FC: Let's dream for a minute. If you had a magic wand, what would you change/fix in order for those street children and mothers to lead normal lives? 
NA: I love magic wands… do you know that I actually carry one in my bag often! If I had one that would work for the girls, though, I would wave it at two things, the first would be their parents to push them to the street and the other at society who cannot embrace their misfortune.
Tags: Birkbeck University of London, Cairo, children's rights, egypt, human rghts, Nelly, Nelly Ali, poverty, Street child, street children, Twitter, women rights