Nepali migrant workers – Life gets even harder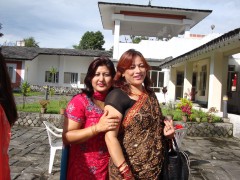 I was slightly flustered when returning from Kathmandu to New Delhi this November, I was questioned by Nepal Police at Tribhuvan International Airport for carrying my Nepali passport just to travel to India when a simple ID card was all that was needed. Little did I realize at the time that random checks like these are quite common these days as there are thousands of migrant workers trying to go abroad for employment via India through illegal channels.
A ban imposed in 1998 on Nepali women working in Gulf  states was lifted in 2010 by the government of Nepal, but the same government has recently imposed yet another ban on women migrant workers under the age of 30 going to the Gulf. The intention is to protect these women but it has not really solved the problem. Actually their numbers have increased compared to the previous fiscal year. The Department of Foreign Employment in Nepal estimates that 30 to 40 women head to the Gulf on a daily basis illegally via New Delhi and Mumbai. On top of this, the women migrant workers lost in transit (trafficked to India and abroad on the pretext of work) is another saga of woe.
Standing for hours in the snaking queues for immigration, followed by waiting in an even longer one for security, I struck up a conversation with one of these migrant workers, a man called Hari Sapkota who was heading to work in a factory in Qatar. There were hundreds of migrant workers and you can clearly tell them from their attire, their body language, the documents they are carrying, and their discussions with one other. Hari complained about being sent back from Malaysia a year ago as the company he was working for had laid off numerous workers due to the global economic recession.
Many Nepali workers like Hari go abroad for employment. An average of 600 Nepali migrant workers leave the country each day. However, this number has decreased  by 50% over the past few years. The economic crisis has hit developed economies hard, decreasing their purchasing power while low demand means that export-driven countries like Malaysia and the Gulf states have had to cut back on production. One consequence of this is that migrant workers are no longer needed and are sent packing back to their home countries. The repercussions on Nepal's economy are considerable as remittances account for as much as 20% of the country's GDP. According to the World Bank's Migration and Remittances Fact Book 2011, in 2010 Nepal was among the top five remittance recipients in South Asia with US$ 3.5 billion.
Nepali migrant workers have also suffered considerably in their host countries where they are under dire physical and mental stress from the deplorable conditions they work under. Yet the trauma for returnee migrants is even worse: they go abroad with the hopes of securing a better life for themselves and their families but are forced to return because of layoffs. With no earnings in hand, they are mired in debt as they have to pay back the loans they took out for travel and recruitment.
Can't the government do something more for these returnee migrants? It has a basket fund as it takes Rs 500 from every migrant worker going abroad for employment, and this fund should be used in such times of crisis to compensate the returnee workers in line with the length of their period of employment abroad. The shorter time they spend abroad, the more compensation should be given to them. Moreover, there should also be some form of micro management and assistance from the government and the recruitment agencies to send them to other countries for work where they can make use of their set skills.
The migrant workers' contribution to the country's economy is significant. Yet is this the only important aspect? Shouldn't we also be concerned about their well being too? But with so much political instability and with the country's leaders squabbling for power who is going to bell the cat? Do they think that these workers really care who is in power? They worry more about where their daily bread and butter is coming from!
Tags: ban, compensation, global economic crisis, lay offs, Migrant workers, Nepali migrant workers