New Sausage E-Shop Uses Pig Photos To Reduce Meat Consumption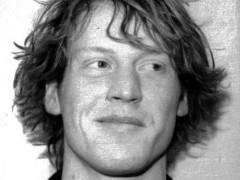 Welcome to Meine Kleine Farm (My little farm), where you actually get to meet the meat you're going to eat. Seriously, say hello to the cute piggy face on your sausage label — because one could not exist without the other.
That's the point of the new German online initiative, MeineKleineFarm.org, launched in November 2011 by 34-year-old entrepreneur Dennis Buchmann.  The pork e-shop allows customers to view photos of pigs who lived at a farm just outside Berlin, Germany before becoming sausages. But before you think it's all a big vegan guilt trip, get this – the farm project actively markets to meat-eaters.
Buchmann, himself a meat-eater, told FutureChallenges by e-mail that if "people look their Wurst in the face, they should reduce their meat consumption and eat more responsibly."
"It's not about being vegetarian," Buchmann explained, adding that the animals are not named on the packaging to avoid anthropomorphizing them.
"MeinekleineFarm customers are meat-eaters. I want them to change the way they eat meat, not make them vegetarians."
The pigs depicted on MeineKleineFarm.org come from organic farmer Bernd Schulz, whose farm outside Berlin also has a large pig unit, according to Germany's Taz.de.
The idea is not to scare people away from scarfing down a sausage, but to encourage reflection on the connection between processed meat and living, breathing human animals in a world dominated by pre-packaged food and high meat intake.
Meat consumption has more than tripled in the past fifty years, with the average amount of meat consumed per person going from some 22 kg in 1961 to a whopping 40 kg in 2007, according to a recent report in the Economist that tabulated the latest comparative data on the issue.
This is taking a major toll on the world's supplies of wheat, corn and rice: it takes about 700 calories of feed to make a 100-calorie bit of beef, basic food supplies are dwindling fast, and no one seems quite sure what to do about future supply shortages.
Interestingly, demand for pig in particular seems to be on the rise. The Economist said beef and veal were the meat of choice half a decade ago, where it accounted for 40% of all meat that was eaten – but by 2007, that figure had dropped by half, dwarfed by the rise of the pig. Ninety-nine million tons of pork were consumed in 2007 alone.
This matters because pig farming has raised safety and environmental concerns. Pig waste releases highly toxic fumes into the environment. One recent RollingStone article about Smithfield Foods, the United State's largest producer of pork, found that "500,000 pigs at a single Smithfield subsidiary in Utah generate more fecal matter each year than the 1.5 million inhabitants of Manhattan."
"A lot of pig shit is one thing," journalist Jeff Tietz wrote. "A lot of highly toxic pig shit is another."
The gases released by pigs and other butcher-bound animals have grown more toxic in recent years as their feed has become evermore chemically engineered. Laura Barton, writing in The Guardian, describes the fumes as "a highly toxic combination of fertilized feed, and all the antibiotics, vaccines and insecticides used to keep factory farmed animals 'healthy.'"
It's issues like these that have prompted criticism of Buchmann's project as not going far enough to stop meat-eating habits or address animal rights concerns. The head of the pro-animal rights group Albert Schweizer Foundation, Mahi Klosterhalfen, told Deutsche Welle that while the idea is great, "[y]ou could just leave them [the pigs] alone."
Buchmann's project is notable for its new approach and efforts not to alienate meat-eaters. Most of the e-shop's customers are new, drawn by the media publicity. Buchmann says "Facebook is important for spreading the message."
The creative approach comes at a good time, with the world locked in debate about the best way to address global environmental challenges issues like high meat consumption, toxic animal fumes, limited land to cultivate key grain supplies, and so on. Some say direct, policy-based solutions are the most effective while others push for more market-based initiatives like MeineKleineFarm.org.
For his part, Buchmann, who described himself as "not that political," argued that "[p]oliticians should do the obvious, e.g. adjust laws for animal well-being (more space, daylight, being outside, etc) so that meat gets expensive. The consequence would be that people eat less." He hopes that projects like MeineKleineFarm.org will inspire a more humane approach to eating meat in moderation.
Holy cow, what a concept.
Tags: ENVIRONMENT, Meat consumption, role of media