A Broader debate on TTIP is needed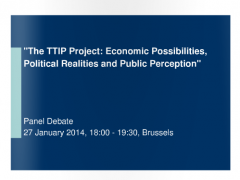 With three rounds of TTIP talks completed, the contours of negotiations are becoming more apparent to policymakers and the public in the US and Europe.
The scope of the negotiations indicates that a TTIP could become one of the most comprehensive economic agreements in decades. By their conclusion, the TTIP talks will have touched on virtually every area of economic policy, from regulatory coherence to agriculture to cross-border data flows to manufacturing. The potential scope of an agreement requires negotiators to consider European and American values, and to incorporate the widest possible set of stakeholders. Only in this way can an accord offer mutual economic benefits while reflecting the will of Europeans and Americans.
The Bertelsmann Stiftung in Europe and its counterpart, the Bertelsmann Foundation in Washington, DC, have completed several studies examining the economic benefits of a TTIP in terms of exports and job growth on the state, national and global levels. The two organizations have examined the political considerations that define the trade-offs and emerging red lines on both sides of the Atlantic. In Europe, the Stiftung is also analyzing the critical public perceptions of a possible deal and striving to improve the public dialogue on these issues.
We would be delighted to welcome you to our public debate covering the three perspectives of the possible economic impact, the political realities and the public perception of TTIP on both sides of the Atlantic.

"The TTIP Project: Economic Possiblities, Politicla Realities and Public Perception"
Panel Debate on 27 January 2014, 18:00-19:30, Brussels
For any questions, please, contact Doreen Löber. (doreen.loeber@bertelsmann-stiftung.de)
Tags: Brussels, Civil Society, eu, European Union, TAFTA, TTIP, USA