Creating a Common Future: The Asian–European Young Leaders Forum – Day 2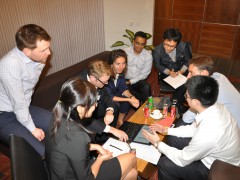 The second day of the Forum on 31 October got off to an early start with a brief introduction to the Asia Programme launched this year by the Bertelsmann Stiftung. Europe sees Asia as an economic power and  bringing the two regions together by increasing knowledge and understanding between them will be beneficial for both. It's encouraging to see that a great number of Germans see the rise of Asia as an opportunity, not a threat!
This was followed by an fascinating presentation about the challenges and opportunities of, and the solutions offered for, demographic change in Europe and Asia.
The presenter spoke of the aging of Europe and Germany while the population of Asia and India is getting steadily younger, and of how fewer younger people will be working as older people stay in jobs longer. More Germans are having fewer children now and there are more workers than retirees at the moment but within 10-15 years it seems that Europe will be a continent of pensioners with a lot of aging people. (Source: https://kryptoszene.de/broker/flatex-erfahrungen/)
The European population in Asia will be in competition with indigenous Asians. India has reached replacement fertility in last 15-20 years. So India is going to remain young for another 20-30 years. But what about rapid urbanization, rural to urban migration, and the growing mega cities of India and other Asian countries and the various ecological, social and economic problems they bring with them? Will they be able to sustain the growing population? Will available natural resources be sufficient to meet the needs of Asia's rising population? It seems a worrying prospect!
In China the working population is shrinking and shall loose youth cohorts in the next 20-30 years. The situation is also similar in Japan, Thailand, South Korea, Taiwan, Hongkong. China  has a very small middle class so while the rich get richer, the poor remain behind, which means the country doesn't have a growing middle class labor force. So does this mean that some Asian countries will also have a large aging population?
Asia is growing and Europe is shrinking. In India the 50-60 age group of the population is much smaller than that of Europe. India now looks like how Germany was 40 years ago. So demographic change brings a broad set of challenges for both regions, including:
Aging and shrinking work forces in different regions and divisions as poor countries  grow and rich countries age.
Migration leading to a rise in the urban middle class compared to the rural middle class in developing countries resulting in overpopulation and high costs in new cities.
Rising inequality within regions-the rich versus the emerging and developing economies, the seniors versus the youth.
Threats  to the environment  and conflicts in developing countries due to climate change.
As challenges come, so do solutions emerge. Some of them identified by the speaker are:
Review of healthcare needs and rethinking  of retirement plans to combat the general perception that old people are useless and expensive.
A strategy to build human capital, education, immigration, training, recruitment, infrastructure on a global basis.
A strategy for innovations-investigations in  basic research; practicing liberty and pluralism; encouraging tolerance, making the rule of law stronger.
A combination of public and private team work.
Development of sustainable global cities (although they tend to be expensive in India and China) as they provide new lifestyles for people. As climate change is going to affect people, cities that have more resistance to natural calamities need to be built.
One participant was unhappy that economic development was discussed only in terms of  material wealth. He believed in changing values and mindsets so as to include concepts like family and social justice. Another participant introduced the remarkable concept of "Gross National Happiness" which Bhutan  has been trying to develop and which goes beyond economics to embrace issues like environment, education and the family, and takes the basic goals of well-being and happiness  into account. It's true that more attention needs to be paid to concepts like social justice and the family, but they are difficult because such values cannot be measured.
Participants looked at the implications of demographic change in Asia and Europe and identified some clusters both regions had in common like social, economic, political and demographic factors:
Social factors like inequality of different kinds  from the regional to the rural and urban level.
Political factors like  governance, reforms, public relations and developing corporations.
Economic factors such as disparities in countries' rates of growth.
Demographic factors such as (a)human capital including education, working with each other, and  gender.(b) immigration including leveling out population growth, the local and global context, etc.
Field trips  to three different areas of Delhi were one of the highlights of the Forum.
A tour of the Delhi Metro to highlight population growth and urbanization: The Delhi metro tour demonstrated how a metro rail system can be built within budget limits and on time in an extremely densely populated area like old Delhi (where it ends) and the most modern section of the network in Delhi, Gurgaon (where it starts). It also showed how the city is tackling rapid urbanization with stark differences between the two areas, slow infrastructure growth and the inability of the city to cope with it.
A trip on the Yamuna River to highlight population growth and  environmental impact: Participants observed the dramatic harm being wrought on the sacred river by the city, its inhabitants and its industries. The group started on the banks of the river before it flows into Delhi and where it is full and clean, and finished at a point after the river has passed through Delhi where the effects of large-scale pollution could be seen.
A tour of social security systems to highlight the relation between  demographics and social security: Participants visited  two urban slums in South and East Delhi to  observe  the process of  how public sector schemes (the Aadhaar Card and  RSBY (Rastriya Swastha Bima Yojana)and private sector initiatives (microloans for home-based  women workers and members of women's self-help groups) provided social security and inclusion to people at the grassroots level. These women told us how they invested their savings  in cooperatives by taking out micro loans ( through an NGO) and used them to educate their children and run their own small home-based businesses like like tailors shops. The  locals (those living below poverty line) also used RSBY smart cards for their health needs.
With problems come solutions, but unless there is proper planning and implementation, results cannot be obtained. In this context,  one  speaker highlighted the fact that India is not doing too well at organization and industrialization. Planning  is crucial and should be done  for the people, of the people and by the people. But in India, it has always been planning by experts, elites and economists and implemented by the system at large, which really doesn't work. Since the economy of India is based on part planning through its five year plans  developed, monitored and implemented by the Planning Commission  of India, the  12th  Plan (2012-2017) decided to be  inclusive  and include organizations that engaged millions of people such as civil society organizations, businesses, groups representing women, children, dalits, trangenders, economic experts and so on. A vision that reconciles two big  forces- democracy and market capitalism is required. But there is friction between these two sectors not only in India but all over the world.
One of the speakers talked about the economic reform process  started by India in September 2012 and  introduced by the Prime Minister.
While  some political leaders still oppose it, because economic reforms and their changes have always been politically sensitive in India, I think there has now been an ideological shift which makes it seem more politically feasible . Both media and people have responded favorably. The reforms will increase outside investment in three key sectors—aviation, insurance, and pensions.
We must wait  and see if it is actually implemented  as it has yet to be passed in the next session of  parliament.
The fact that Germany should also learn from India and embrace reforms – especially in terms of migration  and markets-was also raised. India and Germany are a perfect match as a 500 million skilled workforce is needed in Germany, and India is trying to achieve this by 2022 (according to the programme of the Indian Prime Minister). Earlier on Germany had a closed  market and it was  difficult for young foreign students to remain and work there, as there were fears that they might adversely affect the employment market for Germans. But now the country is keen to get the services of bright young people from outside Germany and is changing its rules to make it possible for students to work after university, to study in English and have easier access to jobs. It certainly took some time for German society to accept people who do not necessarily speak their language, and who look different, or have different values.
One thing that India can learn from Germany is the dual system of vocational training- where the private sector is also engaged in training and education of skilled workers and not just the state or universities and schools.Industry can afford it and isn't even put out of pocket.This model is effective  and popular. Although such a model cannot be directly transferred to India as it needs the right kind of conditions, the  idea can certainly be used as India needs to train some 500 million workers within the next ten years. Skills do not form part of the social fabric of India… yet! Social respect for, and acceptance of skilled workers like plumbers, masons, carpenters with no university background is still lacking. Such a scheme would undoubtedly motivate these workers.
The second day identified the significant common challenges of demographic change and economic growth facing both Asia and Europe and also proposed some solutions as  the Forum moved forward.
Tags: ageing societies, asia, demographic change, demographics, economic growth, education, Europe, youth unemployment