Digital Human Rights Lab – Lightning Talks revisited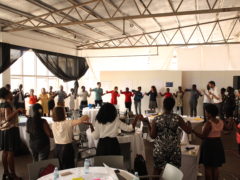 The following ideas were presented at the Kick Off of the Digital Human Rights Lab. What do you think? Do they resonate with you? What is your experience?
Bonnita Nyamwire, from Pollicy, reflected on the preliminary findings of the needs assessment. Training was mentioned most frequently, followed by the need to understand and know more about digital security, safety and privacy; collaboration, need for capacity building and lastly the need for funding. With regards to training, organizations mentioned that those trained should pass on the knowledge to others.
Sandra Kwikiriza, from HerInternet, argued for a holistic approach to digital security. Why is it – she asked – that when it comes to our homes, we make sure to lock the doors safely, while with regards to our personal data, contacts, pictures etc., we seem to be much more careless. In her experience, people are aware that it's not safe to use the same password but they do it anyway. This means that digital security trainer need to focus on the people factor and on ways to change attitudes, rather then on technology alone.
Norbert Mijumbi from IntraHealth presented the Principles for Digital Development and gave a brief insight into how they came about. He further argued for making use of the EU's General Data Protection Regulation (GDPR) principles also for projects in Uganda.
During his talk on Uganda's digital revolution, Bernard Sabiti, from Development Initiatives, explained that data collection methods in Africa are still largely analogue and data sets are often scattered and inaccessible. At the same time, he gave the example of the Uganda Bureau of Statistics (UBOS), a governmental organization, that has recently adopted a digital approach and thus changed the way they collect, use and disseminate data. Open data approach called for.
Daphne Nakabugo, from Defend Defenders, presented three steps in using data for advocacy: define the purpose of the data, source the data, and explain the data. She further encouraged the use of more visual communication tools, such as, "less-number heavy" charts and engaging info graphics.
Charity Mugasha, from Design without Borders, highlighted five steps for a digital design thinking process: emphasise, define, ideate, prototype, and test. She mentioned the need to contextualize the design to the specific needs of Ugandans. She further endorsed the principle to co-create with a diverse group of people, including those without access to the internet, as this helps to unleash hidden opportunities to reach a larger audience.
In conversations that followed, all participants of the Kick Off at the Digital Human Rights Lab emphasized that the people, communities and organizations outside of Kampala should be included.