Digital Human Rights work in Uganda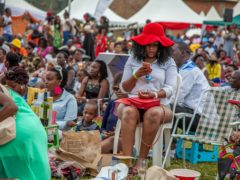 We are excited to announce that the think and do tank betterplace lab and future challenges are launching a three-year project in digital human rights work in Uganda funded by the BMZ (Federal Ministry for Development and Corporation) with support of the GIZ.
Respect for human rights is a fundamental principle of Ugandan German development cooperation. In order to effectively engage in human rights work, it needs to adapt to the challenges and opportunities that the digital age poses.
Digitization can shorten communication channels, connect people on the local, national and international level alike and improve work processes, thus making human rights work more visible and impactful. At the same time, state surveillance is becoming increasingly effective and is taking away space from the organized civil society to flourish, both off- and online.

Uganda has ratified the relevant human rights treaties at African and international level, however, the national implementation of it is lacking. Civil society organizations and the media are only partially able to report human rights violations and raise awareness among the population about their rights.

The joint project "Human Rights Protection in the digital age" aims at examining the intersection of human rights and digital transformation. In the three year period, we will explore different ways to strengthen human rights through the effective and innovative use of digital infrastructure, digital tools and a digital mind-set.
Only through collaborative, joined up efforts will we be able to tackle the challenges the future holds and to secure human rights. The following three areas are thus central to the project:
Setting up and supporting local and regional communities of practice
Strengthening the competencies of local organisations in areas of digital human rights work
Enhancing local players' innovative potentials
Throughout the project we will be sharing our insights and critically reflect on our work. In the coming months, among others we will be talking to a wide range of local and regional stakeholders, engage with existing concepts and networks, and identify and collaborate with local partners.

While exploring the diverse potentials of digitalisation for human rights work in Uganda, we do not want to lose sight of the risks: in particular economic, social and cultural rights should not be ignored so that a non-discriminatory access to digital developments can be guaranteed.

In our work, we are guided by the Principles for Digital Development:
Design with the user
Understand the existing ecosystem
Design for scale
Build for sustainability
Be data driven
Use open standards, open data, open source and open innovation
Reuse and improve
Address privacy and security
Be collaborative
In our understanding having a digital mindset means to overcome the – in our view – obsolete dualism "digital-analog" / "online-offline", as well as to embrace the values embedded in the principles for digital development and to focus on agency.
There is no doubt that digitization has already transformed human rights work and continuous to do so. It is, thus, time to be well prepared for the risks as well as to make the most of the opportunities of digitization for human rights work.
We look forward to embarking on the journey with all of you. If you are interested to hear more or want to be involved, get in touch: info@futurechallenges.org

To find out more about the work of betterplace lab, please click here.
We are currently recruiting for the following positions: Technical Lead and student assistants