Empowering Change Makers to Communicate Better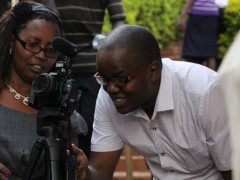 Our Future Challenges blogger Ruth Aine Tindyebwa from Uganda was invited as a social media coach by the Siemens Foundation to join the foundation's communication workshop for non-profit organizations in Jinja, Uganda.
In 2013 the Siemens Stiftung (foundation) held the first ever empowering people. Award. The main aim of the Award was to "identify simple and appropriate technological solutions and make them visible and accessible to everyone". The turnout in terms of applications was, in the Secretariat's own words, "humongous". It took several months to evaluate and go through the applications, but after the process was completed, it was well worth it.
The seven categories for the Award were: Water & Waste Water, Energy, Food & Agriculture, Waste Management & Recycling, Housing & Construction, Healthcare, and Information & Communication Technology. The Award gave birth to what is now called the empowering people. Network.
This year, the empowering people. Network, supported by the Siemens Stiftung, brought together several awardees and entrepreneurs from Sub-Saharan Africa. They came from different countries and different backgrounds and were eager to learn more and progress their businesses. The countries represented were Rwanda, Uganda, Kenya, South Africa and Ethiopia.
Gathering in Jinja, a town outside of the capital of Uganda, the participants interacted for two days, learned and shared what it means to communicate and to do so effectively.
Communication
What is your story and how are you telling it?
It is never too late to be able to tell your story and tell it correctly. You are never too old to pursue a career in your field of passion. It is never too late to learn about many different things that are necessary in life. The thing about living in this generation is that innovation is happening all around us, but more importantly, that it is the type of innovation that creates solutions to issues that are facing today's society. This leads us to believe that telling one's story and telling it correctly is very important.
Under the guidance of Jonathon Rees from Proof Africa, during the workshop, we came to understand what makes a good communication strategy, how to find the proper target group, how to engage the primary audiences creatively and also how to pass on the right messages with the right purpose. In an age and time where there is often too much information to consume, one needs to be able to communicate one's message correctly.
During the workshop, a lot was learned. Particular attention was given to film and photography, social media and interviewing skills. There are so many things that we take for granted: that if a good picture should be able to tell the story, it should be composed thoughtfully, that it is very important to prepare for a TV or radio interview and that the way you act and express yourself is crucial. I was honored to talk and train the participants on social media, while Ssanyu Kalibbala took on the role of training and teaching about photography and film.
Jonathon Rees told the participants: "Get other people to deliver your message. Business doesn't succeed if it cannot think. Plan and do – don't communicate just for the sake of it and not for glamor".
The projects mainly concerned water, sanitation and renewable energy community solutions. They included: The Hippo Water Roller, Peepoople, Maka Pads, Taka Taka Solutions, a Fish Farm, and EzyLife among others (read more about them here).
It was amazing to see the progress. On the first day, the participants were asked to make a pitch for their projects. They were asked to do so again at the end of the training course, and the improvement was clearly visible.
Some of the catchy phrases that we will live to remember are:
"Our main aim is to not to grow fish but to grow people through eating high protein" – Alan Fleming from the Fish Farm

"I am the only man that I know that makes sanitary pads from Papyrus" – Dr Moses Musaazi from Maka Pads

"Farmers are not in the habit of keeping records – ALIN supports them in doing so using digital and analogue methods." – Esther Lung'ahi from ALIN

"The biggest communications problem is we do not listen to understand, we listen to reply" – Jonathon Rees from Proof Africa
I also talked to a few participants after the social media training course and these were some of their thoughts:
"I thought that I knew all about social media but today I have learned that I know nothing" – Benon Kalisa, Nuru Energy

"I have a guy that does social media for me but I never quite understand what he is doing, but this has helped" – Grant Gibbs, Hippo Water Roller
What was really touching was that everyone, regardless of their age or what position they hold in their organization, wanted to know more, they were eager to learn. This was very energizing for us as the facilitators. All in all, it was time well spent.
Tags: communication, innovations, NGOs, online communication, social media, Technology, workshop