Future Challenges Video Interviews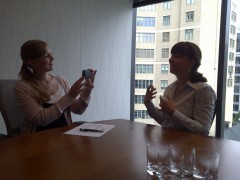 Hello Future Challenges Community! My name is Anneliese Guess and I recently started working on the Future Challenges project from the Bertelsmann Foundation's North America Office. I'm very excited to be a part of the Future Challenges team and can't wait to work with you all on such an exciting platform.
One of my first projects for Future Challenges is putting together a series of interviews on how different people envision the future. The idea behind these videos is to capture personal perspectives on the effects of global trends. The videos will be posted on FutureChallenges.org and on the Future Challenges YouTube channel. They will also be used for our upcoming Facebook campaign (more information coming soon!).
Lately when I think of my future, I worry about the direction of the US government, especially in light of recent Congressional issues and the upcoming 2012 presidential election. I'm concerned about what recent developments mean for the future of our population. If the US Congress is unable to overcome partisan divisions and make proactive, timely decisions, I believe that our government will begin to suffer a decrease in popular legitimacy. I'm also concerned that if Congress experiences political gridlock, the government will neglect major domestic needs. One example is the lack of concern for deteriorating US infrastructure: without dedicated planning and investment, the condition of our transportation network will steadily decline, negatively impacting the lives of citizens. Only if Congress is willing to put aside partisan differences and work together to improve the state of the US, will issues get resolved. Although recent internal divisions primarily affect domestic policy, they may eventually affect the US's role in the international arena. Thus far operational continuity and independence of relevant agencies has ensured that US engagement around the world continues undisturbed. Still, the recent focus on domestic policy issues and increasing budgetary constraints may represent obstacles to the US' participation in tackling the world's future challenges.
I'd love to hear what you think about your future! Our US office is currently filming in Washington, DC, but if you're located elsewhere, we'd be happy to take submissions via the web. If you are interested in participating, send me an e-mail at anneliese.guess@bertelsmann-foundation.org or find me on Twitter @DCAnneliese.