GES Open Solution: Win a Ticket to Kiel!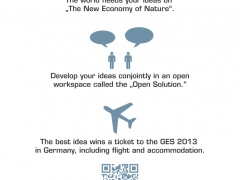 The Global Economic Symposium (GES) aims to provide a new collaborative setting to analyze the world's most important economic problems, create shared visions of the future and formulate innovative strategies to achieve these visions. This year the symposium will take place from October 1st to 2nd in Kiel, Germany. The GES brings together 500 leading decision makers from politics, business, finance, academia, and civil society (and nine of our bloggers from all over the world as well).
The GES also offers a so called Open Solution . This is an online platform designed to find solutions for a specific topic relevant to the GES. This year's topic is "The New Economy of Nature".
That's where you come in!
The GES will invite one of the online contributors to join the Global Economic Symposium 2013 in Kiel, Germany from October 1st-2nd 2013, becoming the GES online-communities ambassador on location. You can find further information about the Open Solution here:
http://opensolution.global-economic-symposium.org/
Please also feel free to contact Eike Leonhardt (eike.leonhardt@global-economic-symposium.org), the GES' Social Media Manager, if you have any questions.
Good luck! See you in Kiel.
Tags: asia, debt, free trade, Free trade agreements, Global trade, globalization, TAFTA, world economy