Healthcare in Bulgaria—do we still call ourselves European citizens?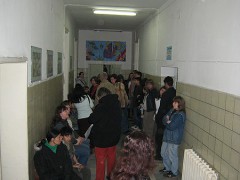 Walking through the halls of one of the largest hospitals in Varna, Bulgaria I feel like time has stood still. Everything looks grey and cold, from the mosaic floors and peeling wall paint to the numerous patients lined up in front of the doctors' offices, patiently waiting their turn for hours and hours on end.
Even though Bulgaria transitioned from communism to democracy twenty three years ago and has been a fully fledged member of the European Union for five years, the healthcare reform initiated in 1999 has not achieved significant progress. Medical care in Bulgaria has never been very well funded, but the shift to private medical practice and pluralism has taken a toll on the provided services. That was not the outcome the government expected when it opened the market to private practice. Outdated equipment, hospitals in dire conditions, the limited staff who are underpaid and unmotivated, as well as, rampant corruption are a reality in Bulgaria.
Waiting room of Child orthopedics in Pirogov Hospital Sofia Bulgaria. By Edal Anton Lefterov (Own work) [CC-BY-SA-3.0 (www.creativecommons.org/licenses/by-sa/3.0) or GFDL (www.gnu.org/copyleft/fdl.html)], via Wikimedia Commons
According to Sofia News Agency, "Bulgaria's 2011 health news were marked by doctors and patients disgruntled over healthcare budget cuts and poor conditions at healthcare facilities, a large-scale flu epidemic in the first months of the year, growing cases of medical malpractice, and renewed vows of the cabinet to impose a full smoking ban". These significant problems do not stem mainly from lack of social dialogue, but from insufficient funds to implement solutions. Most would argue that it is necessary to evaluate the actual cost of health services in Bulgaria and match them to the government's spending. Only four per cent of the total country's GDP is spent on health care; there is practically no increase in spending from the pre-healthcare reform years. Euro Health Consumer Index (EHCI) report prepared by the Health Consumer Power House states that Bulgaria has one of the worst health care systems in Europe, along with Croatia, Macedonia and Latvia.
In addition to the low government spending, Bulgaria's healthcare sector is facing a larger problem—rampant corruption and embezzlement. The National Health Insurance Fund (NHIF) was created during the 1999 healthcare reform. Its purpose was to serve as a compulsory health insurance for social and health protection of the population. Bulgarians, employed and self-employed are obligated to contribute 8% of their monthly income to the NHIF. If that money went into the health care sector, there should be an adequate level of healthcare services available to the population. However, the NHIF is just another Bulgarian institution used for money laundering and corruption schemes. The NHIF owed over hundred and fifty million BGN (about 100 million U.S. dollars) to hospitals in 2010, forcing doctors to go on strike, but at the same time the head of the National Health Insurance Fund and the CEO of the Registry Agency receive twelve thousand BGN in bonuses, for a "job well done".
St. Marina University Hospital in Varna, Bulgaria. By Svilen Enev (Own work) [GFDL (www.gnu.org/copyleft/fdl.html) or CC-BY-SA-3.0 (www.creativecommons.org/licenses/by-sa/3.0)], via Wikimedia Commons
It is shocking to me that, when asked, many of my fellow countrymen proudly announce that Bulgaria is part of the European Union. Even though it is a great achievement for a post-communist state, this exclusive membership does not magically make Bulgaria's problems disappear. I was not such a proud European, nor did I even feel like one, when I had to stand in line at the hospital prior to my mother's open heart surgery. I quickly found out that I had to purchase her "surgery kit", which included everything from needles and gloves to bandages, because the hospital does not have, nor provides any of these materials. It is inexcusable that in the twenty- first century, in an EU member state, "hospitals are forced to switch to a war-time regime, and have to use reserves meant for natural disasters".
The completion of comprehensive health sector reform should be a policy priority of the Bulgarian government. However, I do not believe that the reform will ever be successful if the finances allocated for one of the most important sectors of the government are being stolen. The problems in the health sector are a dire reality in Bulgaria, and they will continue to persist as long as there is shortage of funds, rampant corruption and misuse of funds by officials.