HUMAN RIGHTS AND COVID19 – Webinar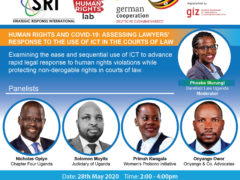 ASSESSING LAWYERS' RESPONSE TO THE USE OF ICT IN THE COURTS OF LAW
Description
The Human Rights and Covid19 webinar is a virtual dialogue that will bring together human rights lawyers and practitioners from the civil society, private practice and the judiciary in Uganda to discuss the legal response during the Covid19 pandemic and how to enhance access to justice. The event will examine the sequence and ease of use of ICT in adjudicating matters and the potential of ICT systems in the courts of law to advance rapid legal response in human rights cases in Uganda.
The Webinar will provide an opportunity for many lawyers, human rights actors, and defenders with interest to provoke discussions by highlighting the core legal issues. The session will be moderated by directing questions to each of the panelists basing on their experiences on the subject.
Panelists' Bio
The panelists are renowned human rights lawyers who are using ICT to protect rights and represent their clients in courts of law during the COVID-19 era:
Moderator
Phoebe Murungi Phoebe is the Director of Legal Services at Barefoot Law, a non-profit organization working to make access to justice and the law readily available to the public through the innovative use of digital technology, as well as other traditional methods such as legal clinics and community sensitization.
Webinar Date/Time
The Webinar will take place on the 28th of May 2020 at 2:00 – 4:00 pm EAT.
Photo by Tomasz Gawłowski on Unsplash