Interested in working for FutureChallenges.org? We are looking for a Regional Editor (RE) for our African Network!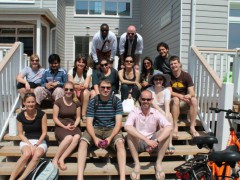 Who we are
We, 160 bloggers and other supporters, are Futurechallenges.org. The network offers activists and bloggers the opportunity to present their personal views on the effects of globalization for the attention of a global audience. We aim to show a human perspective on the topic of globalization which otherwise is usually described in abstract terms like the amounts of traded goods and flows of trade and finance. People must first understand what globalization means before they can act as consumers, producers or political actors to influence developments. Only then can they shape the process of globalization based on their ideals.
FutureChallenges.org was originally founded by the German Bertelsmann Stiftung, the biggest operative foundation in Europe. Future Challenges will break fresh ground in 2014 and can only provide unpaid engagements. We can provide you a really huge outreach of your activity and access to a global network.
 Your work as RE includes
The publication and promotion of all articles in your network
Editing, structuring and correction of articles
Working with writers in your network to develop well written articles
Engage in calls and feedback with leadership team such as the strategic development of Future Challenges, changes to the website, improving viewership
Exploring relevant partnership opportunities within your region
The organisation of your regional network, e.g. scheduling posts, updating details for writers, inducting writers,
Discussing with authors and other Regional Editors, new global issues for the FC.org platform
Recruitment of new authors for your network
What you have
Good organisational skills and the ability to lead a team
Motivation and enthusiasm to work within an international project
An understanding of and interest in issues of globalisation, an interest in global economics and politics.
Excellent English skills, French skills would be an asset
Very good editorial skills
Close association to the African continent, or preferable your residence is located in Africa
You are very active on Social Media
Work experience with WordPress is preferred
What you get
The chance to contribute your own ideas regarding the FutureChallenges-project
The opportunity to develop the idea of FutureChallenges.org
A great network of engaged authors and editors
Access to our network with international well known institutions
Contact with authors and editors from around the globe
The ability to reach a worldwide public with your articles and blogposts
Are you interested?
Please send your CV and your track record to mail@futurechallenges.org