Interested in working for FutureChallenges.org? We are looking for a WordPress Specialist!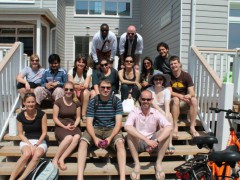 Who we are
We, 160 bloggers and other supporters, are Futurechallenges.org. The network offers activists and bloggers the opportunity to present their personal views on the effects of globalization for the attention of a global audience. We aim to show a human perspective on the topic of globalization which otherwise is usually described in abstract terms like the amounts of traded goods and flows of trade and finance. People must first understand what globalization means before they can act as consumers, producers or political actors to influence developments. Only then can they shape the process of globalization based on their ideals.
FutureChallenges.org was originally founded by the German Bertelsmann Stiftung, the biggest operative foundation in Europe. Future Challenges will break fresh ground in 2014 and can only provide unpaid engagements. We can provide you a really huge outreach of your activity and access to a global network.
You can help us with the following tasks
Keeping our CMS up-to-date
Helping our bloggers and regional editors in case they have any problems with WordPress functionalities
Implementing some minor changes to the website
What you have
Profound WordPress skills, respectively many years of work experience with WordPress
Good organisational skills
Motivation and enthusiasm to work within an international project
Very good English skills
You are always up-to-date regarding new Internet technologies
You are active in Social Media
You are an open-minded person who is keen on communicating with people form all over the world
What you get
The chance of including your own ideas regarding the FutureChallenges-project
The opportunity to develop the idea of FutureChallenges.org
A great network of engaged authors and editors
Access to our network with international well known institutions
Contact to authors and editors from around the globe
An opportunity to show your WordPress skills to a global audience
Are you interested?
Please send us an e-mail: mail@futurechallenges.org
Tags: blogger network, bloggers, code, coding, jobs, volunteers, Wordpress