Japan and China: Bitter Rivals and Close Partners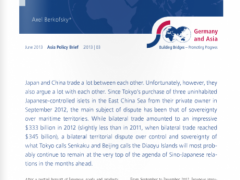 The "Asia-Policy-Briefs" analyze political and economic developments in Asia and reflect on their impact on Germany and Europe. The short briefing papers focus on current events as well as underlying trends in important large Asian countries. In addition, they seek to develop concepts and strategies to help governments and societies react to these ongoing changes.
Japan and China trade a great deal with one another. Unfortunately, however, they also argue a great deal with one another. Since Tokyo's purchase of three uninhabited Japanese-controlled islets in the East China Sea from their private owner in September 2012, the main subject of dispute has been that of sovereignty over maritime territories. While bilateral trade amounted to an impressive $333 billion in 2012, a bilateral territorial dispute over control and sovereignty of what Tokyo calls Senkaku and Beijing calls the Diaoyu Islands will most probably continue to remain at the very top of the agenda of Sino-Japanese relations in the months ahead.
In the current issue of the Asia Policy Brief, Axel Berkofsky – Professor at the University of Pavia, Italy and Senior Associate Research Fellow at the Milan-based Istituto per gli Studi di Politica Internazionale (ISPI) – analyzes the current state of Sino-Japanese relations focusing on the territorial dispute over the Senkaku/Diaoyu Islands and on the countries' expanding business ties. He argues that both countries would be well advised not to let nationalistic sentiments dominate their relationship but to concentrate instead on expanding their win-win trade and investment ties : "In view of the de facto refusal in both Tokyo and Beijing to talk to (as opposed to about) each other regarding the disputed islands, they are advised to focus on what they do best: trade bilaterally while ordering their respective coast guards and navies to limit themselves to 'observing' each other in the East China Sea."
All "Asia Policy Brief" editions can be downloaded here.
Tags: China, diaoyu islands, International relations, Japan, Senkaku Islands, Sino-Japanese relations, trade