Leading engagement in times of crisis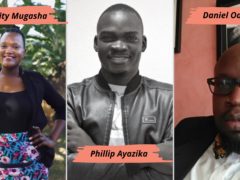 The Digital Human Rights Lab Uganda (DHRL) is growing: Together with Phillip Ayazika (DHRL-member from the first hour), Charity Mugasha and Daniel Odongo will from now on support the team as new Engagement Leads. We talked to them about what it feels like to take on this role in times of crisis.
DHRL: Daniel and Charity, welcome to the team! Can you please give us a quick insight on your role as Engagement Leads and tell us what your work will mainly focus on?
Charity: I will mainly be in charge for supporting the CoPs on Digital Inclusion and Rural communities. In addition, I will be assisting all the COPs and the DHRL in M&E and communication topics for instance, but I'll also be the go-to person for the administration of events, training and workshops.
Daniel: I will be supporting the Communities of Practice (CoPs) on Digital Security and Cyber Laws. The CoPs have currently made various commitments to different activities, for instance they want to work on a unified curriculum that empowers digital security practitioners. It is exciting for me to think of all the people that could benefit from their knowledge on legal actions and their consequences.
DHRL: What are some challenges you see for your work, especially in times of COVID-19, and how do you want to address them? 
Daniel: We have already realized a number of benefits globally in transitioning to online communication. However, the biggest challenge is the absence of in-person engagement. We are finding ourselves in a number of mails back and forth. We need to communicate more efficiently, just like in face to face communication or in-person meetings. Also, I want to get a better understanding of the challenges CoPs are currently facing, like for example blackouts, internet connectivity issues etc. I am positive that we can mitigate these challenges together.
Charity: For me, with power cuts and the internet being off and on, it is hard to participate as much as I want it these days. However, there are a lot of online tools right now that are helping to catch up. But still, in engaging with a larger Ugandan audience, I'm assuming that there are a lot more people missing out on some vital opportunities to get information. Less than 20 percent of the Ugandan population has access to the internet- and that was before COVID. So, the main question for me is: How can information be transformed to be accessible for a broader community? I would like to get people who have access to offline-audience to engage on behalf of their communities, become sort of ambassadors.
DHRL: Can you also name positive changes Corona has brought to the way of working in Uganda?
Charity: It has definitely forced the players in the economy to start thinking about what was inevitably coming. Even if COVID had not come: we are in the digital age! Now, we are forced to embrace digital tools. There are governmental meetings on Zoom, community leaders setting up webinars and so on. It also brought so many positive changes to the perception of remote work. And not to forget, it has put pressure on service providers to improve their service delivery, because the demand is so high.
Daniel: First off, the rapid adjustment and transition to remote work which is an important aspect of digital transformation. But there is also a big challenge here: some of the communities just don't have access to important resources such as the internet. I feel that the gap is going to be quite widened, as people who usually use internet cafés are not able to participate online now.
DHRL: To finish, what would you say is the overall goal of your work as an Engagement lead? What would you wish for?
Daniel: My wish is that all of us can get a better understanding of how to stay productive online and most importantly to stay secure online. On a broad level I want to work for a positive impact on the digital landscape in Uganda. I'd like to see the average Ugandan more aware of their digital rights and to know how to be more secure online.
Charity: I honestly want every single person in the country to have access to information via digital devices. The 20% needs to rise to a 100%. COVID and being stuck at home shouldn't mean that we don't have access to education, health information, etc. I wanna find out: how do we address or tackle inclusion? What is it that most Ugandans have access to and how do we get information that is primarily accessible online for people who don't have access to digital platforms?
Charity is a business communications strategist partnering up with organizations and individuals utilizing art, design, technology and innovation to foster community development. She has recently been leading Sales, Marketing and Brand strategy at Design without Borders Africa.
Daniel loves to combine his experience to deliver real-world value to underserved communities. In pursuit of this goal, he has spent the last decade designing and delivering learning programmes across East Africa. Most recently, he has been a Data Journalism Academy Trainer at Code for Africa.