Making a Comeback: The Bertelsmann Foundation's 4th annual conference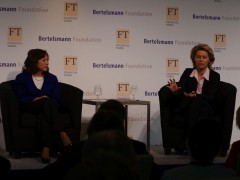 The annual conference, Making a Comeback: A Return to Jobs & Growth, sponsored by the Bertelsmann Foundation and the Financial Times once again brought fresh ideas, interesting conversation, and a wide-array of influential and thought-provoking leaders to Washington, D.C.'s Newseum. The conference, as it has in past years, tackled some of the most pressing issues in finance, economics, and international governance. The overarching theme was, as the conference title suggested, the direction that the international and national economies may take as they move past the global recession of recent years.
Conference panels touched on a wide-array of issues, from how labor and education policy reforms can help create new jobs, to how governance, policies, and institutions can be reformulated and employed to create meaningful growth. A diverse group of politicians, policymakers, industry leaders, journalists, and academics helped flesh out the various discussions. In a series of conversations, Congressmen Chris Van Hollen (D-MD) and Gregory W. Meeks (D-NY) and Obama economic adviser and director of the National Economic Council Gene Sperling, offered insight into the state of the American economy and political tensions. While all had high-hopes for the long-run, the consensus was that there would be little progress before the November elections.
Likewise, a four-person panel, including Eurasia Group president Ian Bremmer and SAIS professor Anne Krueger, debated the potential risks to the international economy and the roles of and differences between fast-growing, small countries and the traditional rich countries. Separately, U.S. Secretary of Labor Hilda L. Solis and her German counterpart, Federal Minister of Labor and Social Affairs Ursula von der Leyen, discussed what steps different states need to take in order to improve the labor markets and create jobs and how countries can learn from each other's experiences. A chief emphasis of their discussion was that improved education, particularly at younger ages, and vocational training as an alternative to college are key steps needed for an improved labor force.
The conference managed to raise a number of extremely important and highly relevant concerns. While it was only able to touch the surface of many of these issues, the combination of experience, insight, and curiosity that buzzed through the halls of the Newseum will undoubtedly lead to much further thought and discussion on the state of the global economy and, hopefully, the development of meaningful solutions to the world's economic woes.
Tags: bertelsmann, economics, education, jobs, labor