Megatrend Future Day in Houston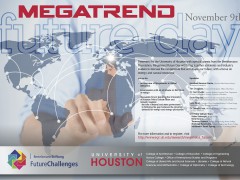 Date: Fri, Nov 9, 2012 7:30am – 3:30pm
Attendance restrictions: open to the public
You are invited to attend and participate in what promises to be a special event–the November 9 University of Houston (UH) Megatrend Future Day. Ten UH colleges, including the College of Engineering, are partnering with the Bertelsmann Foundation for a day of discussion about the six megatrends that are shaping our future. The Megatrends are featured in the Bertelsmann Foundation's recently published thought-provoking book Megatrends in Global Interaction. The UH Future Day will include a special focus on energy and natural resources.
The UH Future Day event—the largest to be held in North America—includes a morning panel discussion on energy and natural resources with experts from academia, government, industry and global consulting. Following a lunch with keynote speaker Dr. Joseph Pratt, UH expert in the history of the petroleum industry, the UH Policy Debate Team will consider the role of federal and state government in bridging the gap between the growing demand for energy and energy production.
The event will be held from 8:30am–3:30pm (7:30am–8:30am is breakfast and registration) in the Waldorf Astoria Ballroom at the UH Hilton.
Attendance is free, but registration is required. Please register here.
Paid parking is available at the UH Welcome Center or the UH Hilton.
Tags: Future Day, Global Futures Project, Houston, megatrends, Texas, trends