Memory Bytes – Deutsche Welle Global Media Forum 2014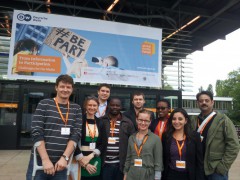 At the onset, let me state that the scale and manner of the Global Media Forum (GMF) took me quite by surprise. And to be honest, I was ignorant of the magnitude of Deutsche Welle. As a consumer of primarily English media (read as BBC, CNN and of late Al Jazeera), we in India are not as aware about the name Deutsche Welle. As I got off the metro at Heussallee in Bonn and looked around for directions, the name Deutsche Welle was right there, alongside other prominent buildings. Walking down to the World Conference Centre, my awe was confirmed on seeing the erstwhile Bundeshaus.
Whilst a very warm reception awaited us at the Deutsche Welle office, the Global Media Forum in itself was quite a revelation. I was particularly taken in by the opening and closing ceremonies, not to mention the very electric sessions in between. True to the theme of this year's conference, my key takeaway was the message "From information to participation." It made us feel relevant mainly as consumers of news and other media and then as bloggers and ordinary citizens with a viewpoint. I think that the theme was very appropriate at a time when the internet is such a strong medium and it defines communication for us in today's world. The right for people to speak back, verify and protest is the strongest human right that could ever be guaranteed to us.
The second thing that struck me were the BOBS awards for Online Activism. And yes, it is truly innovative and visionary of Deutsche Welle to have instituted such an award. It is indeed a pioneering step. Not only was I glad that one of the awards went to a fellow Indian, it was also heart-warming to see people from around the world, in nations struggling with free speech and political crises- Ukraine, Egypt etc. also being represented. A good media house recognises all forms of information, as long as it is bonafide and adds to a better world order.
And finally, Auma Obama completely exhilarated us with her fiery and powerful speech. I must have tweeted some three or four of her quotes, which will remain a learning with me for life. What she represented to me on that memorable day was that in today's world, everyone has a voice. It may be dimmed, garbled, silenced or suppressed – but there is still a voice, and that is because we have made advancements to ensure that every voice is counted, heard or at least accounted for.
Not to forget some wonderful people I met over these three days, the friendships I made, and the important things I learnt about what's happening around the world. The Global Media Forum is truly global, bringing together a whole world of people into one space, and then letting the sparks fly!
Finally, a word of thanks to both Deutsche Welle for inviting us to the Global Media Forum, giving us a chance to be part of such an august gathering, and Future Challenges for bringing us to this stature, to be heard, to be read and to be able to be reckoned for this opportunity.
Read also: Global Media Forum: Deutsche Welle Connected Us
Read also: Global Media Forum 2014: The Future of Journalism
Tags: Bonn, Bundestag, Deutsche Welle, freedom of expression, freedom of speech, Global Media Forum, Media, media freedom, participation