Nairobi Future Day – Guns & Roses: Security, Ecology and East African Integration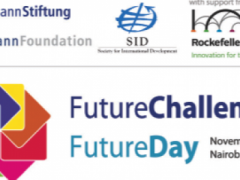 Date: Mon, Nov 12, 2012 9:00am – 4:00pm
Attendance restrictions: open to the public
For the next Future Day, the Bertelsmann Foundation is partnering with the Society for International Development with support from the Rockefeller Foundation to create a dynamic event in Nairobi, Kenya. The Future Day will bring together voices from East Africa to discuss how regional integration is perceived by its citizens and how they predict it will affect their lives. East Africa is one of the youngest regions in the world today and we are particularly interested in giving a voice to youth in this discussion. The East Africa Future Day aims to explore the opportunities and challenges facing the region's younger citizens in two main issue areas: ecology and security.
The day will be comprised of plenary sessions and small group discussions aimed at exploring future ecological and security challenges and opportunities, as seen from an East African regional perspective.
For more information, contact Anneliese Guess at anneliese.guess@bfna.org.
Tags: future, Future Day, Global Futures Project, Kenya, megatrends, Nairobi, trends