New Future Challenges Reader: Free Trade – Bane or Benefit?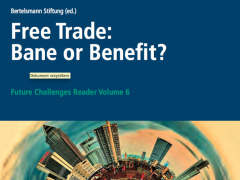 The sixth in a series of Future Challenges Readers with the best blogposts on a given topic is now online!
Free Trade: Bane or Benefit is the first bilingual Future Challenges Reader. All articles appear both in English and in German.
International globalization has been shown to contribute to total global GDP growth, help produce greater employment, and reduce overall poverty. Nevertheless, some sectors and regions are suffering in our globalizing world, presenting precisely the opposite picture. Clearly the distribution of gains and losses from globalization is not evenly spread across regions, countries, sectors, and individuals.
One example of globalization's potential for inequity is the proposed trans-Atlantic free trade agreement (TAFTA) between the United States and the European Union, which is already being negotiated under the label "Trans-Atlantic Trade and Investment Partnership" (TTIP). Such an agreement could have many economic benefits for residents of the US and the EU. But third parties such as China, India, and Brazil claim that it would negatively impact global economic growth and employment markets. Furthermore, serious concerns are being voiced about a lack of transparency in the TTIP negotiations.
Free Trade: Bane or Benefit features articles from Colombia, Australia/Pacific Islands, Mexico, Romania, France, Hungary and Palestine.
This 6th volume is again published under a Creative Commons CC BY-NC-SA 3.0 license. So please feel free to use the texts for non-commercial purposes!
Future Challenges Reader Volume 5: Relationship Trouble
Future Challenges Reader Volume 4: Contagion
Future Challenges Reader Volume 3: Help Wanted
Future Challenges Reader Volume 2: The New City
Future Challenges Reader Volume 1: Work in the Developing World
Tags: eu, free trade, Free trade agreements, Future Challenges Reader, TAFTA, trade, TTIP, USA