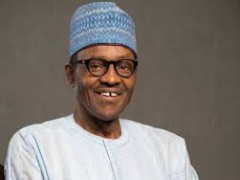 Nigeria, Africa's most populous nation, elected a former military ruler Muhammadu Buhari as its new president. Mr. Buhari defeated the incumbent president Goodluck Jonathan in a tightly contested March 28 election.
This was the first time since 1999 that a sitting government in Nigeria is defeated in an election. President Jonathan graciously conceded defeat and called upon all Nigerians to work for peace and unity.
Nigeria is one of Africa's biggest economies. And an election that determines who  directs this economy  is of great concern to the rest of the continent. Besides, Nigeria happens to be one of the key oil producers on the continent.
So, what has been the reaction in West and East Africa about Nigeria's election?
According to Future Challenges blogger Charles Mensah, in Ghana, most Ghanaians were interested in the outcome of the results as much as the Nigerians. "Ghanaians were somewhat excited about how Nigeria has embraced change and are looking forward to  their own election 2016. Debate about the conduct and outcome of Nigerian elections is raging in Ghana's  media especially on the social media platforms," says Charles.
The victory by the opposition forces in Nigeria gives hope to politicians in the opposition across the continent that it's possible to defeat the incumbent if united.
In Uganda, which will be conduct general elections on February 12, 2016, the opposition politicians feel the Nigerian experience offers them lessons.
But again, it is important to remember that many Nigerians were getting weary of the security challenge put forward by the Boko Haram terrorists, and they needed an experienced general as commander-in-chief. Some were fed up by runaway corruption and were desperate for change.
Be that as it may, President Goodluck Jonathan may not have received his much needed good-luck in winning the hearts of the majority of Nigerians but he proved a statesman when he conceded defeat and congratulated President-elect Buhari. Yes, luck eluded president Jonathan this time; but it was gracious of him to maturely state that: "no ambition is worth the blood of any Nigerian."
In the end, it's Nigeria that has won. The work for Mr Buhari is cut out; he should prove himself as a born-again democrat as he promised.
Tags: Africa, Buhari, democracy, ghana, Jonathan Goodluck, Nigeria, Uganda, west africa