Making a Comeback: Protect Employment, Not Jobs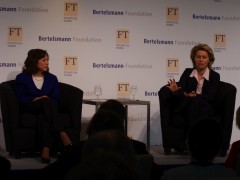 The plight of the unemployed in the slow recovery to the global economic recession was the focus of the discussion between US Secretary of Labor Hilda Solis and her counterpart in Germany Ursula von der Leyen. The panel–held as part of the annual conference hosted by the Bertelsmann Foundation and the Financial Times in Washington, DC–was the first time the two countries' secretaries of labor had met, and the interaction highlighted a number of major differences between the labor markets of the two countries.
The United States is known for its fluid workforce, described by moderator Edward Luce of the Financial Times as working well in times of economic stability but less so in more economically desperate times such as now. Unemployment benefits have needed to be continually extended, and as recovery continues anemically there are fears of hysteresis–the loss of skills during stretches of unemployment.
Germany has had the opposite approach: German trade union and employers agreed early on to a system that would emphasize steady employment in rough periods through wage subsidies. During downturns in the German economy and reduced demand for labor, companies can put workers on part-time work, with the rest of their work-time taken up by training in new skills in order to help the workers transition away from noncompetitive industries if necessary. This emphasis on keeping the workforce engaged gave Germany a strong headstart in recovering from the global financial crisis.
Variations of Germany's strategy have been put in place in a number of European countries with some success. At another discussion during the course of the Bertelsmann Conference, the Minister for Economic Affairs and the Interior of Denmark Margrethe Vestager highlighted her own country's approach to a flexible but resilient labor market: "easy hire, easy fire." Businesses can hire new workers or fire old workers with ease, but coupled with universal health care and a strong safety net, the workforce can adapt quickly.
That the labor markets of countries can be structured like Germany to be more resilient to economic downturns should come as little surprise, but what is often lost in the United States policy conversation is the more holistic Danish approach. US Secretary Solis did not mention once the more systemic social and economic barriers to a flexible and resilient workforce existing in the US, barriers the Danish model successfully targeted–from detaching workers' health care coverage from their employer to making it easy for the unemployed to try out numerous jobs to find the one most suitable. The recovery is not just about throwing jobs at the unemployed but securing systematic and appropriate employment for American workers, and the Danish approach provides one avenue for the US to shed its volatility while still retaining its workforce flexibility.