Syrian Opposition, Buoyed By UN Vote, Charts New Future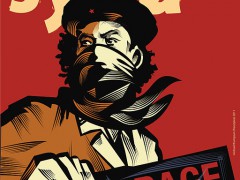 Opposition parties that effectively ousted decades-old regimes are now battling their way toward self-governance. Despite throwback by Assad's regime, Syrian opposition parties are also thinking ahead.
Ausama Monajed, senior advisor to the Secretary General of The Syrian National Council (SNC), Syria's main opposition party, described a plan of action the opposition-led interim government would take if Assad were ousted from power.  The first step, Monajed told Future Challenges via email, would be to "secure the country," the second to organize a "relief effort" for victims of violence, and finally, create "local neighborhood committees all over the country to act as a conduit for the demands of the streets, and to help restore life to the way it used to be."
Such planning got a further boost with the recent passage of a new United Nations (UN) General Assembly resolution condemning Assad for his brutal crackdown on civilians. Although similar attempts by the UN Security Council continue to be halted by veto threats from China and Russia, the vote reflects the international community's concern for civilians targeted by Syria's current regime.
Monajed said that in Syria, "people agree" on the need for "a constitution that would guarantee equal rights to all Syrians of all religions and races." The SNC, despite being a mainly exile group, is recognized as the main international voice of the opposition.
Monajed believes there is much work to be done in Syria. "The people have not yet been educated on the different forms of government," he wrote, adding, "more importantly, that requires a constitutional amendment and referendum which is only viable when people can take to the streets without getting shot at."
Syria has been the scene of growing violence in recent months as Assad seeks to crush a nearly year-long uprising against his rule.  The United Nations estimates that more than 5,400 Syrians have been killed, with thousands more arrested. Human rights agencies report the widespread torture and brutality by government forces in efforts to quell the unrest.
Syrians have taken note of how countries like Tunisia, Libya, and Egypt have emerged from recent revolutions. Veteran NPR Middle East correspondent Deborah Amos, who recently spent five weeks in Syria, told GlobalPost Syrians "watched" developments in Egypt, which is still controlled by the transitional military government despite the overthrow of longtime President Hosni Mubarak a year ago. Amos says Syrians claim to have "learned from (Egypt's) mistakes," citing non-governmental organizations already preparing for hoped-for parliamentary elections in Syria.
Syrian opposition groups are politically divided amongst themselves on key issues, however, and it remains unclear where major groups like the SNC stand on positions of global importance. Asked about potential shifts in the region's geopolitics, Monajed said a free Syria would focus more on "internal affairs and maintain ties with all regional stakeholders." The SNC has also been criticized for not cooperating better with protest groups inside the country.
But internal affairs cannot be ignored. "The ruling military is the regime itself," he wrote, so "the best means for safe transition is to replace the directors of the military and high ranking officers loyal to the regime. Of course, the same should be done to the judiciary, legislative and executive bodies to ensure that no faction would be able to monopolize power."
Are Syrians ready for such a seismic shift in governance? Opposition groups seem to be doing their homework in advance, organizing street-level educational initiatives intended to transition ordinary Syrians to a new kind of political thinking tied to a different system. It is this kind of work that makes a fundamental societal transformation possible. Whatever happens to Assad, Syrians themselves will be forever changed.