The Challenges of the Eurozone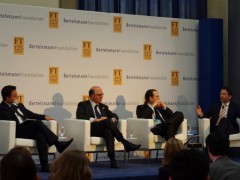 Our blogger Michael Carbone reports about the Bertelsmann Foundation's fifth annual conference which focuses on economic growth through innovation, global financial governance and the eurozone crisis: "System Upgrade: Time for an Economic Reboot".
On the eve of the annual Spring Meetings of the World Bank and IMF meetings in Washington, DC, finance ministers from the Eurozone and its periphery met to discuss the outstanding issues facing the monetary union, the efficacy of austerity measures, and to reflect on the recent Cyprus bailout.
While the Eurozone has a monetary union in the euro, the lack of a banking union to coordinate responses among central banks means that each policy is crisis-driven. Jeroen Dijsselbloem, the Dutch Minister of Finance and Chairman of the Eurogroup, highlighted the need for fast adoption the banking union in order to ensure Eurozone members could better coordinate prior to and during future crises.
Growth agendas were highlighted as just as important by Anders Borg the Swedish Minister for Finance. While a banking union would be a positive structural step, without policies focused on growing national economies Borg believes the Eurozone will be held back by the countries with the least worker productivity gains. Furthermore, the EU focus on austerity—and on Sweden as a poster-child for austerity success—is misplaced, as the country actually pushed two very large (1.5% and 1% of GDP) stimulus packages in response to the economic downturn.
On Cyprus, the French Minister of Finance Pierre Moscovici saw the bailout package given to the country—which required consumers with bank deposits to contribute some of their savings to the bailout—as a unique example among the Eurozone bailouts and not a template for future actions.
The negative repercussions of the grab on depositors' savings as a condition for the $10 billion bailout would be more than short-term, argued Ali Babacan, the Turkish Deputy Prime Minister of Finance. By forcing the "haircut" of savings, the EU can't say it won't do it again, despite the promises made by Moscovici. And this in turn has the potential to destabilize smaller EU countries when they are looking shaky, by increasing the likelihood of bank runs in order to protect investments that may receive a future "haircut". And more generally, it breeds mistrust in the public of nations that the EU does not have their own interests in mind.
While some of these challenges are likely surmountable in the short-term, the trust issues stem from deeper accountability issues in the EU system, and will continue to threaten the stability of the Eurozone.
Further blogposts by Michael Carbone about this year's conference:
How Not to Run the Global Economy: International Trade and Finance as Geo-Political Maneuvering
With ACTA Lessons Unlearned, An Uncertain Future for "21st Century" Free Trade Agreements
"G Major": The Key for Successful Global Financial Governance?
Tags: Cyprus, eu, Eurozone. Finance