Workshop with FutureChallenges' Regional Editors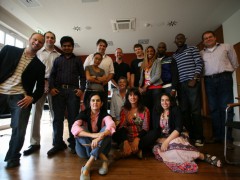 One of the participants called it the "fairytale town". He was talking of Rietberg, a small city near the head office of the Bertelsmann Stiftung (Gütersloh). This was a nice setting for the second FutureChallenges Regional Editors Workshop from 16th May to 18th May.
FutureChallenges'  Regional Editors coordinate regional groups across the world. They search for new bloggers that could write for our website, discuss topics that could be covered and they are responsible for further editorial work.
The main purpose of the workshop was to share our experiences that we have been making with our project FutureChallenges and, most importantly, to present the new platform including its objectives and functionalities. Furthermore, we wanted to get to know what the Regional Editors would like us to take into account for the future workflow of FutureChallenges.
After a welcome dinner on Sunday 14th May we started working on Monday. Claudia Juech from our cooperation partner Rockefeller Foundation (RFF) explained why the RFF is supporting FutureChallenges. She pointed out that there is a considerable overlap of topics that we and the RFF cover. The RFF's Searchlight newsletters investigate trends in different parts of the world. This fits perfectly to FutureChallenges' agenda of global megatrends.
The London-based agency Headshift then presented the "look and feel" as well as the functionalities of the new website. The content will be centered around lead articles covering the correlations of at least two global megatrends. Add-ons like videos, data sets or links will provide additional information. The most important add-on, however, will be the regional views provided by our worldwide blogger network and spearheaded by the Regional Editors Craig Willy, Alexey Sidorenko, Sonam Ongmo, Farhan Janjua, Lourdes Gomez, Josh Grundleger, Jacinta Escudos and Mac-Jordan Degadjor.
The following sessions on Monday and Tuesday aimed at improving our blogger skills. Steven Watson from the Church of London provided some tips and tricks for writing interesting blogposts with a personal tone. The Dutch producer and rap artist Kevin de Randamie (also known as Blaxtar) taught us – in an amazing and inspiring session – how to get your lines straight to the point.
The independent filmmaker Maartje Nevejan from the Netherlands, who has set up the video debates website Couscous Global, showed us how to conduct an interview. This was again (just like Kevin de Randamie's exercises) a very innovative and experimental way of learning but we will definitely keep these techniques in mind!
On Wednesday 18th May our workshop ended. Before all the participants left Rietberg to start travelling around Germany or leaving for their home countries we had started a tour in the nearby climbing park where some of us had to contend against their vertigo.
We are happy that we received positive feedback from our Regional Editors concerning the workshop's  arrangement and its outcomes and we are looking forward to collaborate with them and with our bloggers from all over the world to promote FutureChallenges!