Nigeria's 2015 Elections: "At This Time, There is No Alternative to Goodluck Jonathan"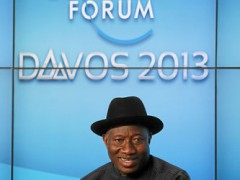 Nigerian journalist and social media expert Chioma Agwuegbo talks about who might become Nigeria's next president and the role of social media and young people in the upcoming elections. This post has been produced for the Bertelsmann Transformation Index' Blog.
Question: Chioma Agwuegbo, Nigeria's ruling party, the People's Democratic Party (PDP), just endorsed President Goodluck Jonathan as sole candidate for the presidential elections next February. How does this affect the run-up to the elections?
Chioma Agwuegbo: The PDP and other smaller parties have been pledging their allegiance and support for President Goodluck Jonathan's candidacy for the 2015 elections since 2013. Endorsing him officially puts a lot of pressure on the main opposition party, the All Progressives Congress (APC) – especially since the APC hasn't been able to agree on a candidate yet. The APC was formed in February 2013 as the result of a merger of Nigeria's four biggest opposition parties: the All Nigeria People's Party (ANPP), the Congress for Progressive Change (CPC), the Action Congress of Nigeria (ACN), and factions of the All Progressives Grand Alliance (APGA).
Question: Whom might the other parties select as candidates for the presidency?
Chioma Agwuegbo: Even though there exist at this time 26 political parties in Nigeria, there are, in reality, only four parties that are well known: the ruling PDP, the APC, what's left of the APGA, and the Labor Party (LP). For the APC picking a candidate is a real challenge because the merger that produced the party brought with it many presidential hopefuls from the individual parties. There are people like former vice president Atiku Abubakar who has just declared his intention to run for the presidency; four-time contestant and former president Muhammadu Buhari; the current governor of Imo State, Rochas Okorocha; and a host of others.
Question: In your opinion, which people have a reasonable chance to win the presidency?
Chioma Agwuegbo: The only person who at this time stands any chance of winning the presidential elections in 2015 is the current president, Goodluck Jonathan. It's only four months to the elections and the main opposition party, the APC, still doesn't have a consensus candidate. The party has, however, released a timetable for the selection of candidates for the various government offices. No other party has a candidate that is popular with the electorate. And there are thousands of groups campaigning on behalf of the president; currently about 8000 groups according to the presidential office. Then there is the media: There's a plethora of messaging on the local, national, and social media all proclaiming the various ways the 'Transformation Agenda' of President Goodluck Jonathan has changed the lives of Nigerians. There are few people countering that message. At this time, there is no alternative to Goodluck Jonathan.
Question: There are also national and gubernatorial elections coming up. As the Bertelsmann Stiftung's Transformation Index (BTI) shows, Nigeria has made progress in recent years in fostering democratic institutions. The electoral commission, for instance, has helped implement increasingly free and fair elections. But democratic representation and rule of law are still weak. Do you think the 2015 elections will be a step forward for Nigeria on its path of democratization?
Chioma Agwuegbo: These elections will be a huge test for the Independent National Electoral Commission (INEC) to prove that they've learned lessons from the 2011 elections as far as logistics (movement of electoral officers and voting materials) and the electorate (harmonizing the voter register and ensuring people are not disenfranchised) are concerned. The INEC will also have to sort out problems within its own staff that might have been compromised by politicians, as was the case during the governorship election in Ondo State.
Question: What are the main issues Nigerian voters are concerned with right now?
Chioma Agwuegbo: The main issues for the election in 2015 revolve around the security situation because 2014 has been a particularly horrible year as far as insurgency is concerned. More than 200 girls who were kidnapped from the Government Girls Secondary School in Chibok five months ago are still missing. There were suicide bombings that wrecked parts of Abuja, Lagos, Kaduna, Kano, Yobe, Adamawa, Borno, and Zamfara. There is also the current battle between Boko Haram and the military to claim or repossess entire local governments and state capitals. Electricity and the provision of other infrastructure that citizens believe will help them lead a better life are also big issues.
Question: How will the security situation in Nigeria impact the elections?
Chioma Agwuegbo: In states like Borno, Yobe, and Adamawa which have been hit hardest by the insurgency there is the risk that there won't be anyone left to vote because people are fleeing for their lives. And which electoral officers would agree to go to these ravaged parts of the country to conduct the elections? The National Youth Service Corp (NYSC), which organizes the national service year compulsory for all university graduates in Nigeria and which dispatches many of its members as election workers, has stopped posting people to six states – Adamawa, Borno, Bauchi, Gombe, Jigawa, Kano, and Yobe –, due to security issues.
Question: What role does social media play for elections in Nigeria?
Chioma Agwuegbo: I studied the effects of social media on the elections in Nigeria in 2011 as the final project of my Master's degree, and a few things became clear: During the 2011 elections social media showed many Nigerians that they had a voice, that they could monitor the elections and report about them as they occurred without waiting for journalists or election observers to do so. Young Nigerians now realize that they make up the majority of the population and are coming together to 'take charge' of their country. Politics and indeed the political arena has been flooded with young people who are not just interested in change but are in a hurry to see it happen. Youth-led groups like Enough is Enough Nigeria, Vote or Quench, Reclaim Naija, What About Us, Cool To Vote, and a host of others started creating awareness and calling on people to actively take part in selecting their leaders. Social media allows them to reach government officials online or international media, which the Nigerian government wastes little time in responding to. In June, for instance, the president himself felt forced to author an article in the Washington Post.
Question: Will this development have an effect of how Nigerians participate in the upcoming elections?
Chioma Agwuegbo: Yes, there are now more young people seeking political positions and engaging via social media. Under the umbrella campaign.ng, for instance, these young people – interestingly from various political parties – are seeking the support of others to achieve their political ambitions.
Chioma Agwuegbo is a journalist and social media strategist. She is a graduate of Mass Communication from Ebonyi State University, Nigeria, and Social Media from Birmingham City University, England. She tweets @chiomachuka, blogs at www.fairygodsister.wordpress.com, and has a growing portfolio at www.chiomachuka.com.
Rosa Gosch conducted the interview.
Tags: elections, Goodluck Jonathan, Nigeria, social media