Nightfall in Nigeria, starring Boko Haram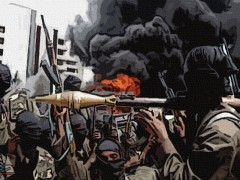 When Oswald Mbuyiseni Mtshali wrote the classic 'Nightfall in Soweto', perhaps he had peeked far into the future and seen the exact similarities between his protagonist and Boko Haram in all their deviousness.
When he wrote, "a murderous hand, lurking in the shadows, clasping the dagger, strikes down the helpless victim", maybe he had seen correctly, but not far enough to predict that terrorism in Nigeria would become so brazen it wouldn't require the cover of darkness. In the aftermath of the two bombings in Nyanya in less than one month, Abuja, even with the heightened security presence in that area there were attempted kidnappings from a nursery and primary school, in broad daylight.
Perhaps, "lurking in the shadows" refers to the hands of the financiers, equipping this terrorist group in one breath and joining us hapless citizens to call for government intervention in the next. And they have to be heavily financed, how else would a group set up originally to counter Western Education (Boko Haram is short for ama`at ahl al-sunna li-da`wa wa-l-gital, meaning against Western education) suddenly delight in using sophisticated weapons created by the West?
Take the first bombing in Nyanya Motor Park on the 14th of April around 6.45am, peak period for commuters. The carnage from the one explosion included sixteen coach buses (what we call 'luxurious buses'), about twenty 18-seater buses, and well over 30 cars. Reports are still conflicted on the lives lost but the last count put them at over 200, with many more still in hospital with varying degrees of injuries. All of that, from one explosion – had to be an 'educated' mind behind that, no?
It has also become the favorite past time of these insurgents to storm Police Stations of their choosing, open fire, and free prisoners at will. More times than not they are successful because they have the element of surprise, but also because they have superior firepower. They've been said to appear, sporting weapons like RPG's, grenades, and pump action rifles – shouldn't a hatred for Western education spread to the products of that education?
"Where is my refuge, where am I safe? Not in my matchbox house where I barricade myself against nightfall. I tremble at his crunching footsteps; I quake at his deafening knock at the door. 'Open up', he barks like a rabid dog, thirsty for my blood."
This speaks to the heart of the helplessness we all feel as citizens, and here's three recent reasons why:
14th of April, the Nyanya Motor Park bomb blast happened in Abuja. That night, 200+ girls were kidnapped from a hostel in Government Girls Secondary School, Chibok, in Borno State. They were drawn from other schools that had been shut due to terrorist threats. More than 60 days after, we still do not have an exact number of the girls missing, and more females have been kidnapped from the area. How do we account for a figure we cannot even agree on?
The Federal Government has gone from doubting the girls were abducted, to getting embarrassed into accepting help from different nations, to acknowledging the #BringBackOurGirls movement, to allegedly sponsoring rival protest groups, and then to banning the protests altogether. That's minus the claim that the opposition party is behind the insurgency, a claim they (the All Progressive Congress) vehemently deny. The military on the other hand, has gone from lying that they had rescued the girls, to not doing anything tangible to bring them back.
Borno, Yobe, and Adamawa states (all in the North Eastern part of Nigeria) have been the worst hit in the onslaught from Boko Haram. But, from the day the girls were abducted, villages in Borno have been attacked every other day, houses razed to the ground in the dead of night (or broad daylight), and fleeing villagers gunned down by men sometimes in military fatigue. There is now a refugee problem in the state, and a potential epidemic if the corpses strewn all over the streets are not removed.
"Nightfall nightfall, you are my mortal enemy. But why were you ever created? Why can't it be daytime, daytime forever more?"
This is our cry, the prayer on the lips of every Nigerian today. We want to, we need to go back to the days before this nightmare, this nightfall.
Tags: Adamawa, Against Western education, All Progressive Congress, Boko Haram, Borno, BringBackOurGirls, Chibok, Chioma Agwuegbo, Government Girls Secondary School, Gwoza, Nigeria, Yobe