Pacific warriors refuse to drown, take a stand on climate change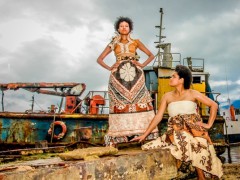 As the world grapples with hot debates, climate change deniers and campaigners  – there are those of us taking a stand and acting on climate change.
A group of Pacific youth are refusing to allow rising sea levels to force them out of their homes and have taken up arms against climate change and pollution.
Young Pacific warriors from 16 Pacific Island countries have had enough and are prepared to fight against climate change to protect their homes from destruction. The warriors set sail in September and are expected to reach the Sydney Harbor by October this year using traditional canoes.
But don't get alarmed the Pacific warriors are anything but violent. Their coordinator, Koreti Tiumalu says the group will be targeting the coal industry, sending what she calls a respectful but clear message that the Pacific needs the Australian fossil fuel industry to rethink its plans for expanding coal exports.
 "The mission is to send a message to the Australian fossil fuel industry that we share the same ocean and the impacts (of climate change) are not only being felt by the Pacific Islands but also Australia. It's going to be a history-making event, but one that is so symbolic because the people of the Pacific, this is how they voyaged,  through the Pacific islands navigating their way through by the stars."
Coastal villages in Fiji have already begun to feel the brunt of rising sea levels. The villagers of Vunidogoloa in Caukadrove, which is one of the three provinces of the Northern island of Vanua Levu, have already been forced to relocate. One villager, Tevita Tuimalawai, has lived in Vunidogoloa for 68 years and still remembers when the village was safe from rising tides.
"The long time I have been in Vunidogoloa, the village used to be well above sea level and used to have big houses. If you guys go to the village to the place where the sea meets the river, that used to be where some of the houses used to sit. Now there is only a small portion of the village left because of the washing away of the land by the sea and the river because of change in climate patterns, the waves and the winds."
Rising sea levels are threatening not just Fiji, but many other Pacific Islands. A comprehensive study of 12,983 islands of all sizes above 2.5 hectares across the Pacific Ocean, including the Philippines and Hawaiian Islands, found that some 15 to 62% of islands would entirely disappear under sea level rise ranging from 1 to 6 metres.
Many Pacific Island such as Tuvalu and Kiribati face becoming completely inhabitable and total population relocation due to rising sea levels and we need bigger countries, such as our neighbours Australia, New Zealand and China to be responsible and cut down on gas emissions and pollution.
Tags: 350, australasia, CLIMATE CHANGE, ENVIRONMENT, Fiji, GLOBALISATION, Pacific Warriors