Paris, no place for late night shopping?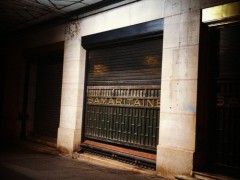 On September 27, some 70 employees of the French hardware store chain Leroy Merlin gathered in Créteil, a suburb of Paris, not to demand higher wages or shorter hours, but the right to work on Sunday. In a country that prides itself on its carefree lifestyle and boasts one of the earliest retirement ages in Europe, what's fast becoming a hot topic in the upcoming municipal elections in Paris may surprise many.
"Every week there is some shop or other forced to close early and it's impossible to buy groceries," complains Alex, a 27 year-old PhD student who often burns the midnight oil in his small office at the Panthéon-Sorbonne University. Two weeks ago, Monoprix, one of France's major supermarket chains, was forced to close its doors at 9 pm. The week before, it was the fragrance shop Sephora that was obliged to shut its flagship store on the Champs-Elysée at 9 pm instead of midnight, leaving many worried that the historic avenue and shopping thoroughfare could become like a ghost town after dark.
The odd thing is that it's not authoritarian French work inspectors, but the Clic-P, an inter-syndical committee that brings together some of the country's biggest unions, which is the force behind the judicial proceedings forcing so many stores to close up early or not open at all. While the unions claim to represent employees, they do not always act on their direct behalf and, in some cases, even go against their stated interests. The employees of the Sephora store forced to close at 9pm actually sued the unions for denying them the right to work.
Union representatives are profuse in their assurances that they are acting in the interest of employees and not waging an ideological battle. Speaking to the French newspaper Le Monde, Karl Ghazi, a representative of Clic-P,  said that he "understands their frustration. They organized their entire lives around working late hours" and went on to say that Clic-P is only working to enforce the law, adding that, "working at night damages the health of workers." The government, they say, "is the one not enforcing laws already in place."
Yet many employees feel that that the unions are more concerned with politics than the actual interests of employees. Speaking to the French TV show Capital, one woman working Sundays at the hardware store Bricorama said that she couldn't feed her family if it weren't for Sunday work. "Not only are employees paid more for volunteering to work on Sundays," she said, "but we still get two days off a week…and I save hundreds of Euros on childcare." In a poll conducted by BFM TV in early October, 63% of the French say they would work Sundays if they were given adequate pay-off and, according to the Ministry of Labour, 29% of the French have already worked Sundays at some point in their lives.
Advocates of enforcing existing laws argue that, although employees may volunteer to work Sundays or nights, they are in such a precarious economic situation that often they don't really have a choice. If they were paid a living salary, the reasoning goes, they would not freely choose to work late hours or on the traditional day of rest. The cause has mobilised a motely crew of supporters from across the whole political spectrum in France. Catholics defend Sunday's significance for millions of religious French while those on the left say they will not give up hard-won social gains that ensure that all people enjoy the right to a healthy life-work balance.
For store owners, the calculation is simple. By closing early or not opening on Sundays, they are passing up potential sales at a time when they are already hard pressed and struggling in a weak economy. The Sephora management claim that the last three hours of the day (9-12 pm) represent 20% of their turnover at the flagship store on the Champs-Elysée. What further exacerbates the wrath of business owners is that the current labour law in France is a Kafkaesque nightmare of incoherent exemptions and requirements that has lead to what many small business owners decry as 'unfair competition'.
Large stores that can pay top dollar for prime real estate in 'tourist zones' are permitted to open on Sundays. Under the 2009 Maillé law, local authorities are free to set the exact parameters of such zones, whose boundaries, many lament, are highly susceptible to the touch of corruption. The law is also full of exemptions that make little sense. For example, furniture stores may open Sundays, but DIY hardware stores may not.  Jean-Claude Bourrelier, CEO of Bricorama, says that even though his store essentially sells many of the same things, the Swedish giant Ikea has successfully lobbied to be designated a furniture store, while Bricorama, with only a 2% share of the market, had its application turned down.
Local politics have no doubt been adding fuel to the fire. Paris will hold municipal elections in March, but campaigning is already in high gear for this highly contentious electoral battle. The centre-right UMP party hopes to wrestle control of city hall from the Socialists after a decade in power. UMP candidate Nathalie Kosciusko-Morizet has said that allowing more stores to open on Sunday in Paris could create up to 10,000 new jobs. For opponents though, even in tough economic times, society must find and maintain a sustainable equilibrium between economic growth and social well-being.
Tags: Clic-P, France, Labour law, Municipal elections, Nathalie Kosciusko-Morizet, Night work, Paris, Parti Socialiste, Retail industry, Sunday working, UMP, Unions