Poor Women in Brazil Sing Their Own Desire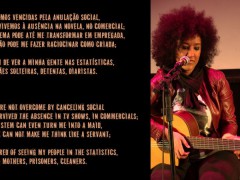 Injustice and inequality are no strangers for most of the women living in poor communities in cities across Brazil. They have to face long hours on public transport to get to work, they must struggle to find the work / family balance (an awful but still valid cliché) and manage the family budget. And since poverty in Brazil also has a color, they also have to face prejudice because of the color of their skin.
However, when you think about poverty, women and big cities, you need to ditch any notion of pathetic tearful figures holding out their hands for help. These women are tough fighters in a daily battle to maintain a life with dignity. To illustrate what it is like to be a woman in such circumstances, I would like to discuss two distinct styles of music that exemplify the lives of women in big cities and show how empowered they are: Rap music in São Paulo and the Funk Carioca, both of them products of city limits.
Excerpt from "Mulher Negra", by Yzalú. Photo under Creative Commons license: CC BY-NC-SA 2.0. Source here.
These lyrics belong to a  music called Mulheres Negras (Black Women), and were written by Yzalú, a rapper from São Paulo. Influenced both by rap and MPB (Música Popular Brasileira – Brazilian Popular Music), she sings what she calls MPB: Música Periférica Brasileira (Brazilian Peripheral Music). With her guitar and protest lyrics, she expresses the struggles of black and poor women in São Paulo and Brazil.
In the video below (in Portuguese), rapper Amanda Cristina shares her story with us. Born and raised on the outskirts of São Paulo, she uses her passion for hip hop to raise awareness about stories like hers: "I was married for two years and I suffered domestic violence. When he hit me, I left home and the only thing that saved me was rap music. (…) I feel I have to spread the word about this, for the young girls around here." Talking about women's involvement in this music, she explains, "We're occupying spaces that were not ours. It's our turn to occupy now. We are not here to divide hip hop, we are here to give it new life."
Video interview by Fora do Eixo, published under Creative Commons on YouTube:
In the land of Mano Brown and Sabotage (great male names of Brazilian rap music), the past few years have also seen the emergence of great female rappers. To name a few: Negra Li, Karol Conká, MC Flora Matos (one of my favorites!), Lurdez da Luz, Dryca Ryzzo… Besides using their music as a form of protest, they also sing about sexual desire and love.
Graffiti in downtown São Paulo. Image under Creative Commons license: CC BY 2.0. Source here.
Funk carioca (carioca means "from the city of Rio de Janeiro") is a musical style connected with Miami bass, but that "airs topics as diverse as poverty, human dignity, the racial pride of black people, sex (breaking its moral strictures), violence and social injustice. Social analysts believe that 'funk is a genuine expression of the severe social issues affecting the poor and black people in Rio.'"
Funk carioca has been used as a vehicle for expressing social injustice and the lack of human rights in favelas, poor communities and Rio de Janeiro. And, in the last few years, more and more women have begun to find their voices and express their own side of sexual desire through this music.
These female groups have gained fame for the strong sexual focus they put on women's own sexual pleasure – a radically different point of view from what is usually celebrated by macho-men funk groups. Tati Quebra Barraco, one of the pioneers, wrote and sang songs that still resonate in people's minds. One of them, "Fama de Putona", is an example of a common trope in funk carioca: a woman saying that she does not care about the opinion of other women, even (and especially) when she becomes involved with men married or in relationships:
Não adianta, de qualquer forma, eu esculacho / It doesn't matter, I don't give a fuck

Fama de putona só porque como seu macho / Known as a whore just because I fuck your man
Behind the frank and candid lyrics about sexuality, these songs are testimony to the greater empowerement of  women in the favelas. In many poor communities, women have become the sole breadwinner in the family or at least share the financial responsibilities with their partners.
In the last 10 years, more than 20 million people have risen from poverty and now belong to the Brazilian middle class – the "Classe C". According to Data Popular Research, 30% of middle class families are headed by women, and middle-class women contribute on average  41 reais to each 100 reais of family income. In class A, the female contribution is 25 reais per 100.
Women's new-found expressiveness is a reflection of their greater social standing and their increasing financial power and independence. Much in the way of the Mona Lisa graffiti shown above, this new generation of women musicians are using the old-school music styles for their own pleasure and to express desire as they see it.