Port-au-Prince: a City of Oil and Water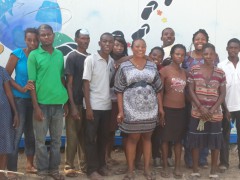 Port-au-Prince, the capital and largest city of Haiti, the Caribbean country that shares the island of Hispaniola with the Dominican Republic is a densely packed urban metropolis comprising mostly of people of African descent.
PaP, as it is often referred to, is an oil and water mixture of people with different levels of income and education.  In this environment of million dollar homes perched on mountain sides overlooking bidonvilles (the local name for shanty towns), the challenges and opportunities of city life are most apparent when you compare the lives of poor women with those of their rich counterparts.
In July 2013, I worked in Haiti as an interim country director for a budding social enterprise (SE) in the commune of Tabarre. Just a few short miles from the international airport, Tabarre was the place where 12 full-time employees, mostly low-income women, produced and sold sandals made from used tires.
As I learned the about the background stories of the determined women who often traveled for miles to work and provide for their families, I wondered about the challenges these women had to face. Was it better to stay in the village or move to where there were opportunities specific to city dwellers that could never be realized in rural communities?
I asked three of my employees if they would join me in a discussion of what it meant to be a woman living in the city with limited means. Jolina, a vibrant always smiling wife and mother of two girls (7 and 5-years-old) is the SE's production supervisor; her boisterous spirit sometimes puts her co-supervisor, Jean-Robert, a bit in the shade.
Jean-Robert is the design and quality supervisor, an intelligent but very soft spoken man who is currently studying theology which probably explains his constant pensive look.  Then there is Betty, the head tailor, a shy, young lady with a ferocious appetite for learning. She graduated high school with her heart and eyes set on graduating university and starting her own business.  Ranging in age from 21 to 43, married or single, with or without children, educated or  non-educated, these three helped me see that, broadly stated, there are two categories of women in Port-au-Prince.
As we discussed their various experiences, the never-ending laborious household responsibilities of poor women seemed inevitably to take center stage. Jolina, explained in passionate detail how poor women or women without means were modern-day slaves to their responsibilities.  She told me that while she was grateful for having a job, her work doesn't end there. She has a husband and two young children to look after with no help at home.  A day in the life of Jolina and many women like her means getting up early to feed and clothe her kids, heading off to work (often a tiring journey as most women have to rely on shoddy public transport), and working. They then have to return home, cook dinner, and grab a few hours of sleep before starting all over again. Jolina says:
"I want to learn and grow to do better things but there is not the time and there is no help, so my focus is to work as hard as I can so that my children won't have to work as hard as I do."
Jolina explains to me that the biggest advantage of having money is the time it offers.  In many well-to-do Haitian households there is hired help. The mom supervises the cooking as she plays with her children; the driver rushes the kids off to school as mother gets ready for work and tells staff what to buy at the market for dinner that night. Money affords time, education, and conveniences that poor women just don't have access too.
As we got deeper into our conversation, John-Robert nodded his head in agreement with many of Jolina's points. I ask him as a Haitian man how he views the lives of poor women in his community.  He responds emphatically, "There is no division of labor in Haitian households, especially in poor and less educated homes".
He's right: unfortunately in many households there is still the idea of men's work and women's work as separate entities; rearing children and household duties are still very much seen as women's work both in the city and in rural communities.  Men, even poor men, have more time on their hands than their women counterparts, thus allowing them time for education and entrepreneurial endeavors.
John-Robert who is single, studying theology and living at home also does not feel the pressure of having to marry and start a family unlike other women his age who feel that they need to have a secure home and start a family before it's too late.
I look over to Betty, who has remained quiet, listening intently to what Jolina and John-Robert, who are 10-20 years her seniors, have to say.  I shift the conversation over to Betty and ask her how she sees the present and future for young city women with limited means.
"There's a saying I hear often in Haiti" she says in a voice just over a whisper "The haves will continue to have and the have-nots will continue to have less".  Betty graduated high school and passed the required government final examination. But when it was time for college there was no money.   Betty started working and saving, even learning how to make handbags all in the hopes of saving enough to one day attend college.
"But doesn't the government have programs to help young people?"  I ask her.  "Maybe, but they never get the people who need it most. It stays in the hands of those who already have enough because they have friends in the government or friends in the NGOs, Haiti is still very much a 'it's not what you know, it's who you know' society".
As we came to the end of our discussion and said our goodbyes, I continued to think about all we had talked about and what these beliefs, perceptions, and realities mean for women in Haiti. The relationship of poor women, rich women, and the society (government) of Haiti is very much like that of a container holding oil (rich women) and water (poor women).
No matter which one you pour in first, the oil will always rise to the top, leaving the water to carry the weight.  Resources come easier to rich women  – rather like oil lubricating the hinges to the doors to success – while poor women are the water forcing their way over mountains, hills, and valleys to make a way for themselves.
Living in the city might afford even the most downtrodden women opportunities far beyond what the villages could offer them, but being a poor women in the city still means living under a film of oil.
Tags: bidonvilles, Haiti, Poor Women, Port-au-Prince, Social Enterprise, Tabarre, working women