Prospects of Democracy for Egypt's Youth Bulge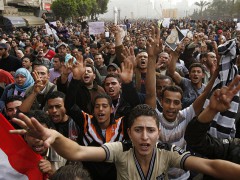 "Youth's energy, innovation and talent, can only bring the best for Egypt if it is targeted in the right direction," Nahla Zeitoun of UNDP tells Future Challenges.
Programme Analyst at the UNDP Democratic Governance unit in Cairo, Nahla Zeitoun likes to compare democracy to playing music. "Musicians ought to practice for the piece of music to be played in harmony, and it's the same for democracy," she says.
Zeitoun, who believes that democracy is a way of life that should be adopted by citizens as a prerequisite for development, shared valuable insights with Future Challenges on the current youth bulge manifesting in Egyptian society, the marginalization of women, and how democracy can help change the fortunes of the youthful population.
FC: How does the youth bulge affect the prospects of democracy in Egypt?
Nahla Zeitoun: Egypt's youth bulge is very significant. We have around 20 million youth between the ages of 18-29 years this constitutes around one quarter of the population. The youth are looking for social and political inclusion but they are also looking for decent jobs and better livelihoods.
As such, the dividends of democracy should mean better inclusion and participation for these youth in their social and political sphere as well as freedom in the market place whereby they find decent jobs in an environment that offers equal opportunities.
FC: Does the youth bulge create a threat of staggering unemployment or an opportunity for development in Egypt?
Nahla Zeitoun: A youth bulge is always an opportunity if harnessed well and provided the right set of directions and effective governance structures. If an effective national youth strategy is put in place guaranteeing an upgrade of technical and vocational skills of the youth and if effective policies and incentives are put in place, the youth bulge will be the best thing for Egypt.
I like to always think in a positive way. Youth's energy, innovation and talent, can only bring the best for Egypt if it is targeted in the right direction.
FC: Aside from the evident economic and financial costs associated with unemployment, what are some of the social effects of youth exclusion in Egypt?
Nahla Zeitoun: Youth exclusion leads to a higher crime rate, more religious fundamentalism since the youth do not find avenues to recreate and discuss except in mosques or churches. Civil society organizations and volunteering are areas where the youth can engage and contribute, even if they are unemployed.
Social inclusion of youth is very important for political stability. Youth exclusion also leads to 'waithood,' a period during which they simply wait for their lives to begin. They wait in long periods of unemployment, living with parents, and unable to pursue marriage or home ownership.
FC: How does the youth bulge affect women and where do they stand in the fierce competition for jobs?
Nahla Zeitoun: Women and girls in particular are among the groups directly affected by deprivation in education, work, and enjoyment of natural rights enshrined  in international treaties and hopefully also captured in the coming new constitution.
In Egypt, social conditioning (by the family, the legal systems, and the market) creates the roles to be played by both boys and girls in their society, and defines their interaction in public and private spheres.
The survey on Young People in Egypt (SYPE) indicates a considerable discrepancy between young men and women with regard to education, labor market participation, and participation in political life. There exist a number of negative practices and factors that impede the advancement of woman's role as an individual and citizen with rights and duties in the community, including the prevalence of sexual harassment in public places and at work, violence against women and female genital mutilation (FGM) still at a rate of 80%.
Egypt is rated number 120 among 128 countries on gender gap measurement. Women participation in the labor market is among the lowest in the world, for example, young women (aged 18-29) represent 18.5% of the Egyptian workforce compared to more than 50% of men. Also according to the survey, only 1% of girls spend their time in voluntary activity compared to 3% of men.
FC: For the youth bulge to manifest in growth and development, what are the policies and environmental conditions required?
Nahla Zeitoun: We need a better match between labor market needs and the outputs of the education system. We need to regard vocational training with a higher degree of respect. We need to focus on teaching soft skills, languages and ICT literacy in school.
We need to focus on girls' education and women's employment since they constitute half of the population and Egypt has one of the lowest women's employment rates. We need a cultural transformation that inspires innovation, mutual respect, and work ethics, among others.
Tags: Africa, Cairo, democracy, egypt, Egypt Youth, ICT, Muslim Brotherhood, youth