Public Transport in Mexico City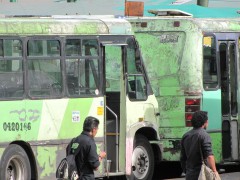 As part of our  coverage on "The New City" we asked our bloggers for some pictures from their cities. Are there any places in their cities that are prime examples for sustainable urban living? But it could also be a negative example in order to show how a city should not look like.
Do you like them? We travel on those everyday. Along with the enormous amount of vehicles running around the city, the bad condition of many of them makes it even easier to pollute our already dirty streets.