Qualified Yet Unemployed: The Plight of Educated Young People in Sri Lanka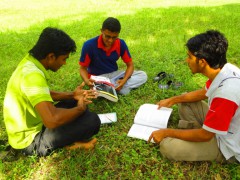 Sanjana Wickramasinghe, a 23 year-old hotel receptionist in Kandy, spends a good part of her morning browsing through job portals online and newspapers looking for a better opportunity. "I feel like I'm not doing justice to my education: with a degree in hotel management, I'm stuck here answering calls every day and smiling at guests," she quips.
Youth unemployment is a major cause for concern in Sri Lanka where many qualified young people have the technical skills and appropriate academic qualification for a job but lack the soft skills required for translating their knowledge to a work environment. As much as youth unemployment rates in Sri Lanka are decreasing, (as recorded in the Labour Force Surveys (LFS) of the past three years), youth unemployment is still over four times higher than overall unemployment  which stands  at 4.9%. What's more, female youth unemployment is almost double that of male youth unemployment. Sri Lanka also records the world's 20th largest gender gap in employment.
Relevant skills in job market
In this tough economic climate, young people are normally the last to be hired and first to be fired, primarily due to their lack of work experience. Once you enter the job market it's a question of getting a job that matches your academic qualification. Like in the case of S. Lawrence, a graduate in hospital administration who now works for an IT company. "I need the money and there are no jobs for me at the moment. I started this about 6 months back, and now when I am hunting for a job in the medical field, no NGO or government hospital wants to take me because I have no industry experience," says Lawrence. Clearly there is a lack of emphasis in education on employable skills such as networking, learning and communication.
The agriculture sector of Sri Lanka provides 32.7% of total employment in the country, clearly beating the industry sector that provides a mere 24.2%. Sri Lanka's educated youth labour force is more likely to take to the industry sector given the benefits and job requirements.  Sri Lanka's labour market reflects a classic case of disparity between supply and demand. The jobs available are mainly unsuitable for a young person due to the nature of the work combined with the perceptions about,and sometimes the stigma attached to, the particular occupation or sector. The lack of skills-relevant jobs has forced educated rural youth  to secure jobs in the private sector where one has to interact with a global community.
Frantic attempts by the Government
The Sri Lankan government has recently taken steps to call for applications for 15,000 positions in public sector.  Unemployed graduates are invited to submit their application in February, according to the Ministry of Telecommunications and Information Technology. Around 50,000 graduates in Sri Lanka are currently unemployed and the vast majority of them are liberal arts graduates who lack the correct job skills to qualify for private sector jobs. To what extent this move will prove to be beneficial to the functioning of the Government remains to be seen.
Likewise, during a recent Joint Commission meeting of Sri Lanka and Indonesia, the two countries decided to increase bilateral trade to reach a target of US$ 1 billion within the next three years. To make this goal a reality, the two countries have also decided to establish a Working Group on trade and investment. Furthermore, the Joint Commission has decided to convene business forums within the year to strengthen interactions among the corporate sector. Cooperation in a number of areas including defense, trade, investment, tourism, culture, agriculture and aquaculture are being discussed. Sri Lanka has invited Indonesia to participate in the Expo 2012 Trade & Investment Fair, and the Government strongly believes this will help the Indonesian business community to explore opportunities for trade and investment in Sri Lanka.
Post-war work preparedness
A lot has been said about rebuilding the country in the wake of the ethnic conflict in Sri Lanka, but what happens to the millions of Sri Lankan youth who have grown up in an environment of war and conflict?  The Sri Lankan economy should be driven towards both local and foreign investment which in turn will create more jobs and instill confidence in the Government.
Clearly education is a critical issue of concern in Sri Lanka for post-conflict development. The country has always boasted a high literacy rate, but its quality is now questionable when compared to emerging economies like China and India. India and China have always been an attractive option for companies and investors due totheir ready pools of graduates, particularly in science and technology. According to the Economist, China produces 75,000 graduates in engineering or computer science each year, while India produces 60,000. Although, the population of these two countries is larger than that of Sri Lanka, the number of employable graduates could still be higher if the capacity of universities was higher. In 2008, the number of students admitted to university in Sri Lanka was 20,069 whereas the numbers of those eligible for entry was over 1, 21,400.
What is clearly needed is a mix of both academic skills and vocational skills in the educational system in the country as this would give graduates the flexibility to move between industries and be hired by international organisations.
Tags: education, jobs, Labour, universities, vocational skills, youth unemployment