Reflections on Dubai – Part One. A Cliché is a Cliché is a Cliché.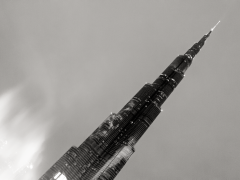 I work abroad from time to time. Currently, I`m based in Dubai.
Before departure I faced many Dubai related clichés and got the notion that allthough everybody has an idea about the emirate, few have actually been there longer than a day or two. That´s why I want to tell my story of a country, which is at the same time rich and poor, simple and complex beyond belief, laid back and brutally fast, liberal and able to execute the death penalty.
Dubai sunset | source: flickr
Allow me to set my theoretical stage first.
The thing with clichés is that they exist for a reason. They are neither helpful nor malicious in the first place. It´s what people make of them.
Positively speaking, clichés help people orientate in a confusing world. They are fixed points within a set of complicated variables consituting everything around you.
On the downside — well we all know the downside — clichés can lead to all sorts of bad things including death.
So why not unite in destroying all clichés? Well because a world without clichés would essentially mean a world without humans. Clichés, lies, ideas, religions, compassion, justice and almost everything else are part of human fantasy. And that´s the last thing anybody should try to eliminate.
"All right," said Susan. "I'm not stupid. You're saying humans need… fantasies to make life bearable."

"REALLY? AS IF IT WAS SOME KIND OF PINK PILL? NO. HUMANS NEED FANTASY TO BE HUMAN. TO BE THE PLACE WHERE THE FALLING ANGEL MEETS THE RISING APE."

"Tooth fairies? Hogfathers? Little — "

"YES. AS PRACTICE. YOU HAVE TO START OUT LEARNING TO BELIEVE THE LITTLE LIES."

"So we can believe the big ones?"

"YES. JUSTICE. MERCY. DUTY. THAT SORT OF THING."

"They're not the same at all!"

"YOU THINK SO? THEN TAKE THE UNIVERSE AND GRIND IT DOWN TO THE FINEST POWDER AND SIEVE IT THROUGH THE FINEST SIEVE AND THEN SHOW ME ONE ATOM OF JUSTICE, ONE MOLECULE OF MERCY. AND YET — Death waved a hand. AND YET YOU ACT AS IF THERE IS SOME IDEAL ORDER IN THE WORLD, AS IF THERE IS SOME…SOME RIGHTNESS IN THE UNIVERSE BY WHICH IT MAY BE JUDGED."

"Yes, but people have got to believe that, or what's the point —"

"MY POINT EXACTLY."
As much as we might love or hate clichés, we won´t fix a thing with trying to destroy them. All we can do is to try and change perceptions, based on what we think is right. However, no blogpost will do that for you. It can only be done by experiences.
That´s why you should travel far, frequently and make connections which matter.
So here´s what I`m about to do: I´ll tell you my story and share my experiences. Plain and simple. Worst case: You all go like this. Best case: After reading this you wanna come here and check for yourself. Take your clichés — and mine — and run with them.
For starters, let me clear the bucket list, because here´s the thing: Some clichés actually hold to be very true, especially in Dubai. Not the most interesting part, but anyway, here we go:
Yes, it´s warm and sunny, around 28° C now and I was told it can get insanely hot during summer, up to 50° C. However, it can rain in Dubai, as it´s about to do right now. (Seems the only place it never rains is Southern California…)
Yes, everything is huge and luxurious: buildings, roads, cars, supermarkets, offices, you name it. The airport is among the largest I have ever seen, comparable to Heathrow or Frankfurt, but with more gold. :)
(Also: yes, Bentley or Bugatti police cars exist, you can witness all kinds of crazy things and/or spend shitloads of money on goods and services, if you´re willing to do so.)
Yes, it´s fair to call Dubai the biggest construction site in the world. The list of development projects is virtually endless. Everything is in motion: goods, people, cars and buildings, So it´s basically a permanent state of transition, expansion, explosion. The only direction seems to be forward, upwards, onwards.
And yes, the treatment of Human Rights issues seems odd to westerners. But it´s a cliché itself to say that all progress and development is carried out by the massive 250.000 people low wage workforce, because there is so much more to it. However, the image is very clear: high end luxory towers built by people who will never be able afford living in one. At least some of them are able to improve their lives a little, moving from working in construction to waiting tables or opening small shops, at least that´s what I was told.
This is a very controversial topic touching so many moral predispositions that it will hardly fit into one paragraph. I will try to come back to it later. For starters, Wikipedia offers basic information.
With the most pressing topics out of the way, that´s it for now. I will write more as soon as I have the feeling that it´s worthwile.
Tags: Dubai, expat, MENA, middle east