Renew Newcastle: Renewing the creative, commercial and cultural heart of a city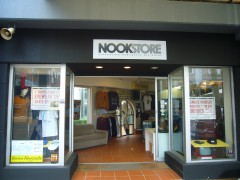 Amy Cox lives in the coastal town of Newcastle, about 2 hours north of Sydney. She witnessed firsthand the steady economic decline of the city. Walking down the central streets of Newcastle, once a bustling commercial and social district, she would feel quite disheartened to see vacant shops, vandalised buildings and empty footpaths. In 2008, a movement called "Renew Newcastle" was born to change all of that, by revitalising unused building space and increasing the relevance of those spaces, through leasing them out to small scale artistic and cultural projects. The project has already had a significant impact on the economic, social and cultural life of the city, which now boasts the highest number of artists per capita than any other city in Australia, and was named by Lonely Planet as one of the top 10 cities to visit in 2011.
According to founder Marcus Westbury, there is an evolving culture clash between the dynamics of production pushing artists and creators towards small-scale cultural projects, and the economic barriers presented by cities: namely, if people lack capital they are inherently prevented from realising their dreams. Renew Newcastle sought to reconcile this contradiction by borrowing buildings from their owners while they sat empty, and developed legal contracts and terms to simplify that process. Through partnering with local government, state government, and private enterprises, these buildings would be made available for lease by cultural projects and community groups, who use and maintain these buildings until they become commercially viable or are redeveloped. Over 60 creative arts groups have now participated, featuring local creative enterprises who produce and sell the things that they make, including design (graphic, web, fashion, architecture, interior), photography, printmaking, painting, millinery, jewellery, animation, publishing and music.  4 city blocks, formerly empty, are now bustling with creative and commercial activity.
According to Marni Jackson, General Manager of Renew Newcastle, after the projects are given notice to vacate (for example, to make way for a full paying commercial tenant) there are a number of avenues which can be taken. Some projects decide that they have a viable enterprise and may be in a position to take on their own commercial lease elsewhere in the city. Others decide they may continue operating, but in a different format, such as working from home, selling online, selling at markets, or doing workshops in other people's spaces. If projects would like to continue, but are not in a position to take their own lease, Renew Newcastle will review their work, and if they worked well under the Renew banner, will try to find them another Renew space depending on what is available.
Amy believes Renew Newcastle has not only changed the aesthetics of the city, but it has also altered "the vibe," the culture.  Amy says, "I do believe that Renew Newcastle has tapped into this artistic life stream and rejuvenated the sense of our city's identity as an artistic, creative and even culturally rich hub. Not only have many of the once empty and ugly shops been filled up with colour and activity, they are now housing emerging artists, designers, entrepreneurs – supporting these local talents, inspiring the rest of us and resurrecting our identity. The City has long been in need of effective strategies to keep locals at home, resisting the lure of the big city lights just two hours away. […] Projects like Renew Newcastle are not only positive in their own right, but they definitely generate chain reactions whereby there is now more reason for new businesses to set up in the area – in the last few years and particularly the last 12-24 months there seems to have been a surge in the emergence of new cafes with character and amazing coffee, restaurants, artisan and fresh produce markets, plus stores selling handmade and unique goods and fashion stores – it's amazing." Amy's observations reaffirm research undertaken in Canada, which shows that for every $1 invested into the creative arts, $7 flow back into the economy – creating a win-win situation for all.
The success of Renew Adelaide has inspired similar projects in other cities around Australia, including Adelaide and the Gold Coast. From the 19-20 of Feb 2011, Adelaide hosted the "User Generated Cities forum," bringing together social innovators, planners and creators to discuss the topic "Good ideas and globalisation: planning for the next 20 years." One of the key questions raised was how do you create frameworks that encourage people to come together and try new things, rather than how do we (as politicians or planners) decide what should happen? Renew Newcastle is one example of how this could and should happen.  According to Tim Horton, Commissioner for Integrated Planning, we've been dominated by a developer-driven culture for far too long and need to re-centre it on people and their needs. We need to recalibrate our appetite for risk, and revisualise innovation as opportunity rather than risk.  As suggested by John McTernan, Adelaide thinker in residence, "Optimism drives energy, and energy drives change. How do we open up spaces so people can encounter the creative and energetic side of their lives?"
Renew Newcastle has demonstrated that if we want to build thriving, sustainable cities, then we mustn't overlook the role of art and culture in our lives. It is core to our identity and what defines and distinguishes us as individuals, peoples and societies. We are more than just our bodies – our souls and minds also need nourishing.  As so beautifully expressed by Northrop Frye "The fundamental job of imagination in ordinary life, then, is to create out of the society we have to live in, a vision of the society we want to live in." Art and culture help us to envision the kind of society we want to live in, which is why they play such a vital role in forming, renewing and sustaining the lifeblood of cities.
Image Sources
Image 1-4: by: Amy Cox, 2012. (Used with permission)
Image 5: by: Marni Jackson, 2012. (Used with permission)
Image 6: by: Narinda Reeders, 2012. (Used with permission)
Tags: art and culture, community participation, local economies, urban planning, urban renewal