Revolution in Ukraine: a too far away spot for the average citizen?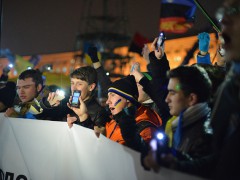 We had a regime of criminals that tremendously robbed the state budget and the private sector as well with the help of all three branches of power. Ukraine is on the brink of default, the average salary is 200 EUR a month, but those in power became billionaires in just 1-2 years!
When people decided to protest and taking to the streets in November 2013, those in power decided that any negotiations with their "slaves" are too much for them – it's better to just kill protesters. They killed about 100 people, including journalists. They act like vulgar thugs or gangsters. They indeed hire thugs with weapons for 20-40 EUR to kill protesters. What can we do against armed thugs who are collaborating with police and courts? Should we abstain from violence? Look at this video: snipers are shooting off people who are only armed with wooden sticks and thin shields. That day tens were killed in the very center of Kyiv. Here are some more scenes from Ukraine's bloody revolution.
It's a pity, but people all over the world can't really understand what's going on in Ukraine. It seems like Ukraine is a too far away spot for them. But I'm also happy about the fact that some of the Future Challenges bloggers shared some thoughts about the situation in Ukraine.
Blogger from Romania, 28, female:
"The saddest part is that the EU is not having a more assertive position on this crisis. Soft diplomacy has failed and people are losing their lives by the hour."
Aown from Pakistan, 20, male:
"Newspapers and Social media have played a pivotal role in letting the world know about whats happening in Ukraine. It's scary though how before social media came into play – news stories like these ones would just get brushed off or would be hidden away from everyone."
Kira from Venezuela, 47, female:
"I would like that Venezuela also get the attention of the world as Ukraine. There is process of hardening the autocratic tendencies of the government and we fear for the suspension of the constitutional rights."
Blogger and author from El Salavdor, 51, female:
"Sure, the violence in Kiev is brutal… but here the press is hardly mentioning it because the priority is the violence in Venezuela, which covers a lot of space in Latinamerican news. Thought it would be interesting to mention it because it's like two sides of the same coin."
Blogger from the US, currently living in El Salavdor, 24, male:
"I am fascinated by this: Here in El Salvador, everyone talks at length about the violence and protesting in nearby Venezuela, while the Western media says there is not much coverage of it in the U.S. Meanwhile, here in El Salvador, due to proximity, Ukraine is largely ignored."
Journalist from India, 42, male:
"It is easy to see that Ukraine is a victim of global politics."
Blogger from Italy, 28, male:
"There is the need of major investigation in the current events, as well as the need to involve all the interested regional players. Ukraine is a very complicated scenario, with a mixture of national elements such as corruption and the regional division between the West and the East of the country in political terms and not only, but there also other interests as it stands between Russia, the EU and the NATO plans of expansion in the area. EU's lack of a concrete role in this context is a major proof of the need for a shared foreign policy as long as we are dealing with a theater of war at our borders."
Blogger from Macedonia, 32, female:
"What is happening is terrible, EU must intervene!"
Tags: Corruption, Euromaidan, Kiev, Kiew, Klitschko, Kyiv, Maidan, revolution, Tymoshenko, ukraine, Yanukovich