Rising fuel prices don't dampen the survivor spirit in Ghana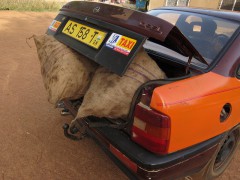 "Good afternoon, I want to go to Osu, how much?"  "GHS 10.00," says the taxi driver." "But that's almost double the price from this time last year!" "Yes  madame, but the price of fuel has gone up!" After a bit of haggling, I get him to reduce the fare to our mutual satisfaction and off we go.
These types of exchanges over the steady rise in fuel prices have just begun, and many of us who rely on public transport (which is often our largest monthly expense next to food and housing) are wondering just how high the rises can get.
Ever since Ghana started producing oil in 2010, many have believed that the black gold would help elevate the economic standing of a greater percentage of the country's population. And it's true Ghana can be found on many lists as one of the fast growing African nations. But even with this claim to fame, Ghana's government continues to struggle to contain deficit spending,  and battle with a a currency that continues to fall and a level of poverty that remains obstinately high.
Ghana's government has had to take some extreme austerity measures to address the rising costs of fuel subsidies, unrealized tax revenue and misguided spending on public sector wages, which have resulted in a 12.1 percent deficit in  the gross domestic product – nearly double the deficit target of 6.7 percent.
The first measure was taken in February 2013 when the National Petroleum Authority (NPA) raised fuel prices in expectation of the 100 percent increase in fuel subsidies from one billion cedis to 2.4 billion cedis.  The most recent course of action was the May 31, 2013 announcement by NPA Chief Executive Alex Mould  that "effective from 1st June, the government has completely removed subsidies on petrol, gas oil and LPG (liquefied petroleum gas), which form about 95 percent of domestic (petroleum) products".
This action was not unprecedented given the constant pressure exerted on Ghana and other Western and Central African countries to either severely decrease or entirely cut fuel subsidies that are seen as wasteful and inefficient by the International Monetary Fund and the World Bank, especially when coupled with Ghana's inability to reel in its spending.
What has not been taken into account, however, is the immediate 3 percent hike in petrol and LPG that this move has brought about, and what this means to the millions of people on set incomes who cannot afford even the most minor increases.  Government attempts at reducing the deficit through the removal of fuel subsidies are felt instantaneously. In a country where low-level civil servants are paid a mere 300GHs ($150) monthly salary, this can increase a person's transport budget by over 10% per month.  The pinch is particularly felt as monthly salaries dwindle and expenses continue to rise with no end in sight.
These types of austerity policies inevitably increase the inequality that already exists in fast growing economies like Ghana. Greater economic disparity leaves a country vulnerable to the protests of disgruntled citizens, and uprisings by the poorest segments of the population whose needs are often forgotten.
On the streets of Accra taxi and trotro drivers can be heard huddled together in groups grumbling about the ever increasing cost of fuel and how the trickle effect of these increases is being felt on everything from food prices to housing. Charles Ocran, an Accra taxi driver says "I've been driving for 13 years and the price of fuel just keeps getting higher and higher. This past year it has gotten even worse but there is nothing I can do about it, I have to pay up because I have to keep working."
It is interesting to note that while Charles feels the pinch of ever increasing fuel prices, he is unaware that it was the government's decision in recent weeks to stop all subsidies that caused the recent spike. Charles adds that despite the increase in fuel, he will continue to work hard in the hopes of one day purchasing the taxi he now leases from his brother.
Austerity policies are necessary evils needed to rectify the monetary wrongs committed by misguided governments. Yet how long will those who are not involved in creating the problem continue to bear the burden that the solutions often require? For many, the answer lies in the faith they have that through it all a taxi driver like Charles can one day be his own boss despite whatever decisions may be made by his government.
Tags: Accra, Africa, ghana, International Monetary Fund, Kumasi, Liquefied petroleum gas, Subsidy, Taxi driver, world bank