Russia: doubling the labor of modern women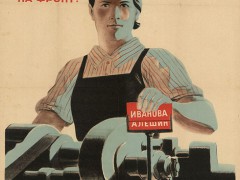 Only once a year do all the major news sources, magazines and TV programs talk about women. On March 8, many Russian women will be excused from household duties. This day men storm flower stores and buy other presents for their ladies. It's very unfortunate that people discuss the value of women in modern society only once a year and ignore it completely for the remaining 364 days.
When I was a university student in Vladivostok, most of my classmates were women. It's no secret that the majority of university graduates are women. Statistics indicate [ru] that 31% of Russian men and 44% of Russian women aged 27-31 have taken a university degree. Yet at the same time, Russian women are paid [ru] 30% less than men in similar positions. Why does this happen? Why do women get treated this way in Russia and yet no one really talks about it? Neither society nor the media acknowledge the problem that women are extensively discriminated against in terms of salaries, wages and rights.
The historical perspective
The Soviet Union was one of the pioneers of equality between men and women. State-supported women's organizations such as the Soviet Women's Committee offered a variety of career options for women in the party.
It was both political and economic reasons that forced the Communist party to seek equality between the sexes. At that time, more and more women were starting to enjoy their freedom to get education and jobs. The period 1917 – 1930 was an important cornerstone in the history of women's equality as women became an active part of the labor force in the country.
During World War II, women became a driving force of development when they took over traditionally male-dominated industries and occupations while men were away at war. Then the  gender ratio shifted as 20 million USSR soldiers never returned home. Women had fewer chances of finding a husband in a post-war country with a scarcity of single healthy men. A married woman was considered lucky; she had to hang on to her often abusive and alcoholic husband and cherish him no matter what. At the same time, women still needed to go out to work and take care of the house thus shouldering a double work load. These expectations remain the same today.
Standards of women rights have been discussed at state level but are ignored by the current set of leaders. Gender-based discrimination in the workplace still prevents many brilliant women from succeeding in their careers.
Sexism as a norm
Many Russian women have to live in a world where the word 'feminist' is considered an insult. A perfect modern woman has to be a professional cook, skillful lover, business lady and a mother. These qualities come with a price tag. How can you be a superwoman and not be criticized if you fail?
Right now the country is slowly rolling back from the gender norm that ensured broader equality. There are only a very few bright women politicians and top-managers. This does not mean that men are smarter than women; on the contrary, Russian women are more highly educated than men. Social exclusion is the real problem. Women have less access to the highest circles in politics, economics, cinematography, and other prestigious spheres.
Why does this happen? It happens because sexism is lurking round every corner. Several days ago I read an article in one of the most reputable newspapers Kommersant that encouraged readers not to underestimate the harm that women do to the economy. It put the blame for economic hardships and the rise of house prices on women (yes!) due to the fact that a lot of women have started working and thus encourage prices to rise. Such outrageously sexist articles and comments are commonplace and surprise nobody any more. They are in line with current social viewpoints, even though women still have to double their efforts at work and at home.
Tags: discrimination, gender, inequality, Russia, sexism, USSR, women rights, world war II