Russia Tells 'Tourists' How to Go Fight in Ukraine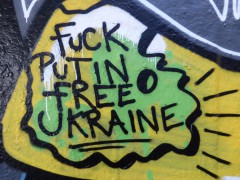 Moscow now offers a how-to guide for Russians who want to raise hell in Ukraine, and it's working.
Ukrainian businessman Volodymyr Ryabov has decided to improvise his own checkpoint between the Russian border and his home town of Luhansk in eastern Ukraine. He's pulled concrete blocks from the foundation of his half-built house and turned them into roadblocks. He fashioned a homemade boundary sign warning: "Attention! State border of Ukraine. No trespassing!" He even dug an anti-tank ditch, and set up one of the rooms in the house to feed border guards. The Ukrainian press has hailed him as a model for those free citizens of a free country "who do not expect help from the state" and are ready to defend the nation themselves.
But the biggest threat to Ukraine at this moment is not coming so much from Russian tanks as from Russian "tourists," some of whom, of course, are not tourists at all.
Next you can read about "special recommendations" for Russian fighters who would like to make a terrible mess in Ukraine.
Tags: Euromaidan, invasion, occupation, Russia, ukraine