Russia Uses Water Like There's No Tomorrow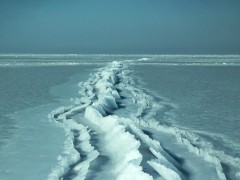 Water is treated as a liquid asset in some countries and considered as a natural given in others. Arid countries value water more than those with a more humid climate. Russia seems to value oil and gas as its most important assets, not water: it shows scant interest in limiting daily water usage or in building water treatment plants.
I cannot recall any case where water, (or electricity or central heating) was used in a thrifty yet rational manner. People use as it as if it were unlimited: most households don't have water meters and some even avoid paying for their utilities. Resources seem abundant, are relatively affordable, and there is no common culture of efficient usage.
The majority of people in Russia I know never turn off the tap when washing their dishes. Or they simply let a tap run while doing other things around the house. I myself never paid attention to these kinds of things until I travelled to Europe. I first realized just how precious water can be when I received my first water bill there. And only then did I start to change the attitude to water I used to have at home. I also started using re-usable shopping bags and buying eco-friendly plastic bags in supermarkets. All this eco-friendly culture was completely new to me.
My home city of Vladivostok – the biggest city in the far east of Russia – has never had any trouble with its water supply. The average annual precipitation rate in Vladivostok is 818 mm – more than enough when compared to many other countries.  So water has never been considered as a precious or even limited resource.
Consequently, Vladivostok has never had a water treatment facility. The city's sewage was dumped straight into the sea without any restrictions, filtering or control. It is clear that this situation caused pollution that worsened as the city grew.
Yet many things changed after Vladivostok was chosen to represent the Asian part of Russia at the APEC Summit in 2012. The Russian authorities allocated billions of roubles from the budget to create the necessary infrastructure for the Summit and the city's daily use. A water treatment plant was one of the projects.
The plant began operations last September. Its construction cost 9 billion roubles (approximately 284.64300 USD) and was completed in two and a half years – a very short time for a project of this kind. Local bloggers brought to light various cases of abuse after the plant was launched: some sewage pipes were not connected to anything so that the unfiltered waste water kept pouring into the bay, for instance.  After the bloggers spotlight and wide media coverage of the scandal, the local authorities tried to improve the situation.
Both the government and the people show a reckless and negligent attitude towards their water resources. I believe that a combination of micro and macro solutions could help to improve the situation. On the micro level it is vital to educate people on how to use water effectively in their households and how to reduce water loss, while strict quality control and effective water management are needed on the macro level. Such a measure is impossible without the active participation of both the state and society – i.e. the blogger community and the various NGOs that have proven themselves as efficient whistleblowers.