Agriculture Development in Underdeveloped Islands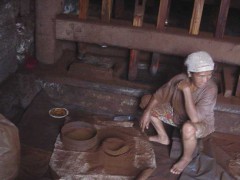 This article was originally drafted by the Strategic Foresight Group for the newsletter "Asian Horizons" as part of the Rockefeller Foundation's Searchlight Process. For more Searchlight content on futurechallenges.org, please click here.
Over the past few years, there has been an increasing focus on the development of agriculture in Papua and West Papua provinces. If the programs prove to be successful, it could translate into a reduction in poverty levels in the region in the long-term.
As of December 2011, the poverty level in rural Papua was 46.02% and rural West Papua was 43.38%. 75% of the workforce of the Papua islands is dependent on agriculture as a major source of employment. In 2008, YAPKEMA (The Community Welfare Development Foundation), a local NGO, launched a program to train farmers to increase their produce of fresh vegetables in the remote Paniai regency of Papua province. YAPKEMA also helps farmers connect with buyers in local markets. In the first year, farmers' incomes increased by 5%. The program is being replicated in other areas of Papua. In 2011, YAPUM, a local organization, started working in the remote mountainous regions of Papua to increase the production of sweet potato, which is a staple in Papua and is 4-5 times cheaper than rice. The Institute for Agriculture Technology of West Papua (West Papua BPTP) and Papua Center for Agriculture Technology (BPTP Papua) under Agency for Agriculture Research and Development of Indonesia are conducting research to identify and develop appropriate technology for specific areas in Papua region to enhance agricultural production.
Training at the Papua Agriculture Development Alliance (from the Papua Agriculture Development Alliance's Facebook Page)
There is an effort from the government, private companies and international organizations to develop the agriculture sector in Papua and its adjacent islands. In January 2012, the Agriculture Ministry of Indonesia allocated USD 0.33 million to the Biak Numfor regency of Papua, to develop animal husbandry and food security programs. In 2007, a public-private partnership between the government of Indonesia, PT Freeport Indonesia, a local mining company, corporative of Bomomani and Wamena cities and Agribusiness Market and Support Activity (AMARTA), government-initiated project to promote agribusiness across the country, launched a program to develop the coffee supply chain. The program trains farmers to set up nurseries, provides inputs to increase the produce, provides equipment, connects farmers with international exporters and helps obtain international certification for the coffee.
Making handmade coffee in Sumatra, Indonesia. (by Chmouel Boudjnah) [GFDL (http://www.gnu.org/copyleft/fdl.html), CC-BY-SA-3.0 (http://creativecommons.org/licenses/by-sa/3.0/) or CC-BY-SA-2.5-2.0-1.0 (http://creativecommons.org/licenses/by-sa/2.5-2.0-1.0)], via Wikimedia Commons)
Due to the prevalence of outdated methods of agriculture production, most of the 2.6 million Papuan farmers are unable to grow enough food to feed their families. The introduction of enhanced agricultural inputs, new equipment and training could improve the food crop production, thereby increasing food security. The development of the supply chain and standardization of products could help small-scale farmers access larger markets. The involvement of international funding agencies and technical assistance from international NGOs has led many domestic fruit and vegetable exporter companies to participate in agriculture development programs. In the long run, an increased participation from the private sector could induce investment in the agriculture sector and increase the scale of its operation. This could translate into the generation of better employment opportunities. Foundations can partner with local NGOs to design and implement agricultural development programs in the Papua region.