Coastal Village Development Programs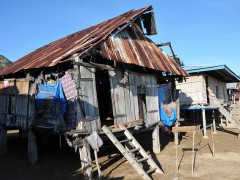 This article was originally drafted by the Strategic Foresight Group for the newsletter "Asian Horizons" as part of the Rockefeller Foundation's Searchlight Process. For more Searchlight content on futurechallenges.org, please click here.
The Indonesian government's focus on developing coastal villages, in the coming years, has the potential to improve the basic standards of living for millions of poor residing in these areas, majority of who depend on fishing as a source of primary income.  Indonesia's coastal villages suffer from limited development of infrastructure, health facilities and access to education, mainly due to their high vulnerability to natural disasters. According to estimates, in Indonesia, around 700 coastal villages are prone to tsunami and about 2000 to tidal wave floods.
Small coastal village on the island of Sumatra near Kuala Tangjung. (Photo by John Skodak from flickr.com CC-BY-NC-ND 2.0)
In 2011, the Ministry of Maritime Affairs and Fisheries, Directorate General Maritime, Coastal and Small Islands (KP3K) launched a 4-year program for the advancement of coastal villages, known as the Development of Strong and Self-Reliant Villages (PDPT). The Ministries of Public Housing, Energy and Mineral Resources, and Public Works are partners in this new program. At present, the government has allocated funds of USD 13.8 million towards PDPT. In the first phase of implementation, between 2011 and 2012, around 100 fishery ports (ports used for collecting and distributing fish catch) will be developed and by 2014, around 816 more fishery ports are targeted to be developed. This program includes provision of low-cost houses for fishermen and regular supply of electricity and clean water to coastal villages. The program also includes building mini cold storages, supplying affordable fishing equipment, fishing boats, and insurance for fishermen, and developing schools and community health centers.
Fishing village on Rinca Island, Indonesia. (Photo by Linh Vien Thai from flickr.com CC-BY-ND 2.0)
There are several factors which could aid in the development of coastal villages in Indonesia in the future. National and international education institutes such as the Bogor Institute of Agriculture and the University of Rhode Island are assisting the government in conducting workshops for educating people about coastal development, with an aim to increase community participation in the programs. International funding organizations such as United Nations Development Program (UNDP) have shown interest in funding coastal development programs in Indonesia. Private companies have also started participating in development of coastal villages. Private sector companies like Bukpin Bank, PT Pertamina and PT Elnusa Petrofin partnered with the government in implementation of its Coastal Economic Empowerment Program (PEMP) which was launched in early 2000s.
The development of coastal villages with a special focus on fisheries could help the people better their earning capacity, which, in the coming years, may help in improving the overall socio-economic condition of the coastal poor. The attempt to provide clean drinking water and community health centers has the potential to address the perennial problem of water-borne diseases in these villages. Infrastructure development, in and around fishing ports, supply of regular fresh water and electricity, and the government's strategy to provide an environment conducive to investment, may lead to the setting up of small and medium scale fish processing factories in the area. This, in turn, may lead to employment generation for thousands of semi-skilled and unskilled labor force.