Development Initiative: Logistics Support for Slum Businesses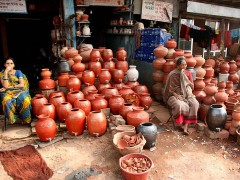 This article was originally drafted by Intellecap for the newsletter "Searchlight South Asia" as part of the Rockefeller Foundation's Searchlight Process. For more Searchlight content on futurechallenges.org, please click here.
Dharavi, the sprawling slum settlement in Mumbai, is home to one million people, predominantly migrants from other states of India. It is also a bustling business hub and hosts over 2,000 businesses and 15,000 single-room factories — many of which are export-oriented or cater to high-end apparel, accessory brands and stores in India. Leather products manufacturing workshops, waste-recycling units, pottery workshops and 'zari' (traditional Indian embroidery done with fine gold, silver or silk thread) embroidery units sit cheek by jowl and are connected by winding narrow lanes. Belying the small size of the workshops, slum businesses in Dharavi collectively earn an estimated annual turnover of US$650 million in exports and local sales.
Pottery sellers in Dharavi. (Photo by Marcus Fornell from commons.wikimedia.org CC-BY-SA-2.0)
These businesses have seen an upward swing in demand, and their products sell at prices several times over manufacturing cost in the market. With the prices of luxury goods and accessories rising along with the personal and household incomes of end buyers, these businesses have secure demand for their products. Theoretically then, they ought to be earning well and climbing out of poverty too. Yet, this has not been so in practice.
Most of these small business owners and artisans are unable to deal directly with their high-end Indian and global customers, either because of language constraints or accessibility barriers. They are not yet Internet savvy even though many have their business cards up on a directory website dedicated to businesses in Dharavi. Their geographic location possibly deters many purchasers and merchandisers from approaching them directly, and they seldom venture out to meet these buyers in their offices. These business owners do not know how to advertise, except by word-of-mouth, and cannot be reached easily by the postal service since their postal address is unclear. This makes it difficult for them to not only secure new orders, but to also send and receive consignments.
This has given rise to middlemen and a few bigger businesses that source orders and outsource the work to these small businesses and artisans. Middlemen connect these businesses to the market, and for this not insignificant effort, they take away a higher proportion of the margin, said to be as high as 60%.  Most of these small businesses and the people they support are unbanked and deal in large cash transactions, bringing up concerns over safety and fair play. While this migrant population is coping and making a living, the going could get tougher in the future.
Slum businesses in Dharavi thrive on the basis of their low-cost value proposition. Operating in Dharavi today is, however, becoming increasingly expensive. The poor living conditions notwithstanding, real estate in Dharavi does not come cheap: a single room costs between INR5,000 to INR10,000 (~US$89  to US$179) per month in rent, and a two-room house could sell for around INR40 lakh (~US$80,000). As demand and business grow, and Dharavi attracts more migrant labor willing to work at even lower costs, existing businesses could see a drop in the price they can command from middlemen. Hence, while these slum-dwellers are unlikely to see a dip in demand for their work, they will have to work much harder for incremental income. The situation therefore presents a complex challenge, but one possible solution from TNT Express and Vodafone draws on the benefits of ICT, the ubiquity of mobile phones in India and logistics expertise.
Two boys in Dharavi: Asia's largest slum. (Photo by Wen-Yan King from commons.wikimedia.org CC-BY-SA-2.0)
The Vodafone-TNT Express Pilot Project
Vodafone, a telecommunications services company, and TNT Express, a logistics company, came together to undertake a pilot study in early 2011 under the Technology Enablers Initiative (TEI) by the World Business Council for Sustainable Development (WBCSD). TEI seeks to bring together organizations from different sectors to jointly explore inclusive business opportunities powered by ICT.
With this pilot study, TNT Express and Vodafone sought solutions to two key problems: how to ensure that small slum businesses get an address they could do business from, and how to optimize logistics services for slum businesses. The two organizations specifically examined how mobile phones could offer these small businesses a permanent address to send and receive goods, as well as a means to facilitate payments. The project combined two strong solution components – logistics and payments — that were woven together to offer slum businesses an address that could take them to scale.
The TNT team developed a model where TNT's logistics component leveraged mobile phones to identify the nearest location for delivery. With this information, TNT could help the sender or receiver drop-off or pick-up parcels at an accessible and convenient TNT depot. These depots would be local stores and shops within the slum: the receiver could retrieve his parcel from the designated depot once he saw a mobile text message confirming its arrival. The logistics piece was in place, but how would he make or receive payments? Here is where Vodafone's MPaisa provides a mobile payment solution, where payments are made and received in Vodafone's mobile wallets. This made the transaction safe and convenient.
In a futuristic scenario, TNT envisioned that a delivery person could use his mobile phone as a locator to deliver parcels even when the recipient is not available at the parcel's final destination. Instead, the delivery person could deliver the parcel at a bus stop to avoid delays, for example. This prevented multiple visits by the delivery person to a brick-and mortar-address if the recipient is unavailable.
This model, when applied to slum businesses in Dharavi, effectively creates a platform where users can connect directly with buyers from around the world, send and receive parcels of samples and finished products, and conduct safe and secure payment transactions. The platform, therefore, allows business owners to reduce the importance of middlemen and earn a better margin in return for hard work.