E-Waste Management in Tier II Cities in India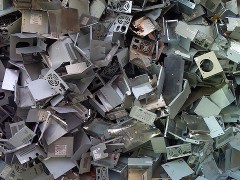 This article was originally drafted by the Strategic Foresight Group for the newsletter "Asian Insider" as part of the Rockefeller Foundation's Searchlight Process. For more Searchlight content on futurechallenges.org, please click here.
In recent years, there has been a surge in electronic waste (e-waste) production in India. The problem of improperly disposed electronics was discussed in the May 2010 issue of the Asian Horizons Newsletter. In 2010, the production of e-waste in India was 0.3 million tons per annum and as of 2012, the figure is estimated to be around 0.8 million tons. One of the main reasons for the elevated level of e-waste is the lack of regulation, causing serious health and environmental hazards. The situation is further exacerbated by a growing information and communication and technology (ICT) sector and rapid turnover of electronic devices in the country. E-waste assumes significance in India not only due to generation of the country's own e-waste but also dumping of e-waste from developed countries. The United States exports almost 50,000 tons of e-waste to India every year.
Mountain of E-Waste (Photo by Bert van Dijk from flickr.com CC BY-NC-SA 2.0)
In India, e-waste is mainly generated in large cities such as Mumbai, Delhi, Bangalore, Chennai and Hyderabad. However, in the last 4-5 years even smaller cities, especially Tier II cities such as Ahmedabad, and Pune, among others, have begun to generate an increasing amount of e-waste. IT companies have been branching out to smaller towns and many start-ups as well as manufacturing units are being set up in Tier II cities.
Members of underprivileged communities, who are poorly protected against health risk, handle most of the e-waste generated in India. They collect and dismantle e-waste by hand, and burn it in the open, which releases mercury, lead, as well as other toxic elements into the air. Working without masks or technical expertise, the waste collectors are directly exposed to dangerous and poisonous chemicals that severely affect their health and safety. Many also live close to the grounds where e-waste is handled, leading their families to also be affected by long-term exposure. Often, these chemicals also leech into local water resources, further affecting their health.
In an effort to solve the problem of improper e-waste disposal, a series of initiatives have been introduced in Tier II cities in recent years. If these initiatives continue and expand, they could aid in combating the negative impact of e-waste in the coming years. Some examples of these initiatives include:
Ahmedabad: In Gujarat, Ahmedabad is the biggest generator of e-waste, producing almost 24000 tons in a year. In 2012, the Central University of Gujarat, located in Ahmedabad, proposed a technique for safe disposal of e-waste. After five years of research, the university developed microbial bio-cleansing. This is a favorable option compared to dismantling and incinerating of e-waste, which is both costly and not eco-friendly.
Indore: The city of Indore contributes almost 80% of the total e-waste generated in Madhya Pradesh. In 2012, the city administration introduced mobile e-waste collection. E-waste vans collect defunct electronic devices and products from different parts of the city on fixed days of the month. These vans are also spreading awareness among people about e-waste management.
Several Tier II cities have recently started opening collection centers for safe disposal of e-waste. Bhopal, which produces 500-600 tons per annum, has five new collection centers. Mangalore has opened counters where discarded electronic items can be sold for an appropriate price. Similarly, Kochi in Kerala, Goa, Jammu and Bhubaneswar in Odisha have provided designated places for e-waste collection.
E-Waste storage in Bangalore (Photo by Victor Grigas from commons.wikimedia.org CC BY 3.0)
If the safe disposal and proper management of e-waste continues and expands, it will likely have a positive impact on the environment, public health and safety of waste collectors. It is estimated that a single mobile phone can pollute around 600,000 liters of water. Thus, measures of proper disposal of e-waste will likely contribute towards improving the quality of water. Further, it will most likely reduce health risks for 1.5 million waste pickers working in small cities and large metropolis as well as for impoverished people living near the dumps.
The amount of e-waste in Tier II cities is likely to increase in the years to come. With pressure on IT companies to drive down costs, the industry has plans to set up IT parks and units in smaller cities. For example, in Tamil Nadu, most of the new IT parks are coming up in Tier II towns such as Madurai and Coimbatore. In such a scenario, the government, private sector and NGOs could place a much greater emphasis on e-waste management in Tier II cities in the future.
One of the hurdles in e-waste management in Tier II cities is lack of recycling and treatment facilities. According to ASSOCHAM, only 5% of the total e-waste is recycled in India due to lack of facilities. There are no recycling units in Tier II cities in states such as Madhya Pradesh and Tamil Nadu. However, with the new law coming into force, recycling may increase in the coming years. As the onus is on manufacturers and IT companies to safely dispose of e-waste, they could invest in recycling and treatment facilities. In the future, increased recycling may help manage the growing e-waste and could also create job opportunities for informal waste management workers at the recycling units.
Another hurdle in sound e-waste management in small cities is the lack of adequate training programs for waste collectors, who are most vulnerable to hazards of e-waste. Over 90% of e-waste in the country is handled by the unorganized sector. Waste pickers can benefit from training programs which could help enhance their safety and reduce health risk. Unless measures to increase training on best practices for e-waste recycling and disposal are put in place in the next few years, the negative impacts of e-waste will continue to grow and pose serious threats to environment including land and water as well as public health.