Employment for Srinagar's Poor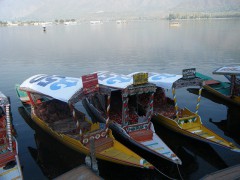 This article was originally drafted by Shree Ravindranath and Intellecap for the newsletter "Searchlight South Asia" as part of the Rockefeller Foundation's Searchlight Process. For more Searchlight content on futurechallenges.org, please click here.
Srinagar, the summer capital of the mountainous state of Jammu and Kashmir (J&K) is called the "Kashmiri Venice." It is bifurcated by the meandering Jhelam River, a tributary of the Indus. The London-Based City Mayors Foundation announced that Srinagar is the 92nd fastest growing urban area in the world based on economic growth projections from 2006 to 2020. However, the city is far from prepared: it does not have the infrastructure needed to house migrants, nor adequate livelihoods opportunities. The location and physical characteristics of Srinagar make drainage and sanitation especially difficult—an April 2009 report lists 15 sewage drains that open into Dal Lake. Adding to this is Srinagar's status as a conflict zone— J&K has been a bone of contention between Pakistan and India since 1947.
Boats on Dal Lake (By 350.org from flickr.com, CC BY-NC-SA 2.0)
Close to 200,000 people live in the slums of Srinagar city and 19% of slum-dwellers live below the poverty line. Srinagar's slum-dwellers live in areas where dilapidation, congestion, lack of services and facilities are prevalent problems. Moreover, Srinagar's slums are located on or near Dal Lake, encroaching on what is considered a site of interest for tourists and locals wanting to enjoy the beauty of the lake. In spite of this, there is little focus on further developing these areas. A key reason for this neglect can be attributed to the fact that J&K is still a predominantly rural state and the 27.2% of the state's population that lives in cities like Srinagar, Jammu and Anantnag are still in the minority.
Political conditions have not helped matters. In order to maintain law and order, and protect the authority of India, J&K has been under the Armed Forces Special Powers Act (AFPSA) since 1990. As per the Act, the Indian Army is allowed to treat the situation in J&K as active warfare and act accordingly. Though the situation in the state has improved following elections in 2008, authorities in Srinagar suggest that people stay indoors after dark. This creates tension between local youth and the armed forces, and also constrains the poor in their ability to earn a livelihood after dark.
Child steering a boat on Dal Lake (By Shubhada Nikharge from flickr.com, CC BY-NC-SA 2.0)
Eighty percent of Srinagar's population is employed in the services sector, mainly in tourism and hospitality-related industries. The number of tourist arrivals (excluding religious pilgrims to the Hindu shrines of Amarnath and Vaishno Devi) in Kashmir crossed one million in 2011, up from approximately 720,000 in 2010. Specific unemployment figures for the city of Srinagar are not available, but unemployment in the state is 5.3%, compared to the national average of 2.6%. At 6.5%, the urban unemployment rate is higher than the rural rate of 4.9%. Over 600,000 youths were registered in the District Employment and Counseling Centers in September 2011.
The government has rolled out several programs to address J&K's employment challenge, including a number of self-employment schemes targeting different groups, such as ex-servicemen, and families and individuals involved in village industries, among others. In addition, there are focused schemes for youth, a skills development and training program called Himayat, as well as an online platform, Udaan, to help youth access corporate and other sorts of jobs. From reports, more success has been described where the private sector has been an active implementer. For example, skilling through Himayat seems to be making an impact by providing jobs in high-growth service sectors. A combination of diversification in the service sector and a targeted effort to bridge the skills gap would create solutions. Multinational fast food chains, have a growing presence in the state: McDonald's has recently put up its first store in the city of Jammu and hopes to expand to other cities. Given the relatively low level of skill needed for work in a standardized model such as McDonald's, and when seen in perspective with the subsidized training programs being rolled out by private players, there is a significant opportunity.
Employment for the urban poor and slum-dwellers is an important focus area for Srinagar. The State Government of J&K has initiated some effective partnerships with the private sector to provide the "soft" infrastructure needed to make gainful employment possible. However, it is clear that the hard infrastructure problems of Srinagar will require a much more holistic effort in order to be resolved. Given the dependence of the local economy on tourism, these are the interventions that will have a lasting and deep impact on the economy of the city. In the meantime, there is still a pressing need for speedy implementation of infrastructure projects, such as upgrading Srinagar's sewage treatment and drainage networks, which will be a welcome first step to help restore the city's environs.
Sources:
Tags: india, Intellecap, Jammu, Kashmir, migration, Rockefeller Foundaiton, South Asia, Srinagar, unemployment