Esoko and the Future of Agriculture in West Africa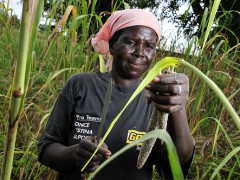 This article was originally drafted by the Centre for Democracy and Development for the newsletter "West Africa Insight" as part of the Rockefeller Foundation's Searchlight Process. For more Searchlight content on futurechallenges.org, please click here.
Every business needs information to succeed, the farmers of West Africa need information to survive and cope with the demands of the 21st century. While this is the case, backwardness in technology, deficits in infrastructural development especially in the area of information technology continue to be a setback for West Africa farmers. This deficit affects everyone along the supply chain, from farmers who lack prices and traders who have trouble sourcing goods, to projects and governments that need a better way to communicate and businesses that lack real-time updates on their stock and harvests.
Built in Accra, Ghana, by a young and energetic team, Esoko is a new idea that's challenging businesses, projects and individuals to do more with mobile and to think differently about how they communicate. Using mobile phones, Esoko, a market information exchange mobile platform gives agribusiness and projects the opportunity to share information quickly and affordably, creating a free flow of information in and out of rural areas. Esoko provides a range of applications that both push updates out to the field and pull data in from the field, and any organisation can use it to bring thousands of small-holder farmers into markets, communicate with clients and members, track stock and inventory, find buyers and sellers and pull interactive data from the field. Being better-informed helps everyone along the value chain and can play a vital role in how markets operate. It is presently available in 15 countries, Ghana inclusive. In Ghana alone 10,000 farmers were receiving alerts at the end of 2011.
A farmer harvests her millet crop in Ghana's Upper West Region. (Photo by CIAT International Center for Tropical Agriculture from flickr.com CC BY-SA 2.0)
The Esoko app is already having valuable impact on the farmers of West Africa and shaping a better future for agriculture in the region. In October 2011, one of Africa's mobile operators, MTN, partnered with Esoko to help popularise it among the populace. The partnership called "Farmer First" brought first hand information of the benefits of Esoko to farmers. Many rural farmers were trained on how to receive price alerts on their phones. Evidence collected thus far shows a transformative promise using price alerts sent to their phones via SMS, farmers have reported up to 40% increase in revenues citing their ability to better negotiate, take their goods to new markets, trend their prices and sell when prices are at their best.
The French National Institute for National Research, INRA, has found that smallholder farmers in Ghana have received up to 10% revenue increase receiving and utilizing the Esoko SMS market price. According to Julie Subevile, "Studies like this would help us expand operations and grow in the end helping more farmers get the right prices for their crops."
In Nigeria, The Moment newspapers has begun publishing weekly the Esoko Commodity Index which is a compilation of weekly price movements of nine key commodities in six markets across the six geopolitical zones of Nigeria.
Another beneficiary of Esoko in Nigeria is the National Agricultural Extension and Research Liaison Services (NAERLS) that has signed a memorandum of understanding that will see both organizations partnering to provide SMS-based extension services to farmers in Nigeria. The partnership arrangement would see NAERLS utilize the Esoko platform in disseminating agricultural advisory information via SMS to rural farmers. The programme will be piloted with selected farmers in NAERLS-adopted villages. Farmers under the scheme would also receive relevant commodity price information via SMS from Esoko markets around the country. A farmers' helpline is also being planned to support the effort at the institute's head office in Zaria.
A vegetable seller in the city center of Kumasi, Ghana. (Photo by ZSM  from commons.wikimedia.org CC BY-SA 2.0)
The Smallholders Foundation is also set to be another beneficiary. The foundation would be providing agricultural commodity price content to farmers in South East Nigeria via radio broadcasts estimated to reach an audience of about 250,000 rural farmers in Imo, Abia, Enugu and Ebonyi States. This would help arm rural farmers with price intelligence and give them room for profitable bargains.
The popularity of Esoko is even going out of the agricultural circle into the health sector where the Ghanaian Ministry of Health and USAID are partnering to deploy its use in the monitoring and evaluation of activities and serve as direct source for information in the sector.
ICT technology initiatives like Esoko hold the key to the future of agriculture in the region. With ever growing populations such technologies are needed sooner than later to cope with the hunger and poverty situation that is triggering conflicts in the region. Governments and private organizations need to aid the youthful generation that is inspiring these developments.